Photos and Quotes From Mo'Nique on Winning Best Supporting Actress Oscar 2010-03-07 21:20:48
Mo'Nique on Her Academy Award: "I Am a Stand-Up Comedian Who Won an Oscar!"
Mo'Nique completed her successful award season run with yet another win at today's Oscars. She was brimming with happiness as she stepped back into the press room, where she kept the crowd cracking up the whole time. Along with talking about her dress and role, and relaying the sweet story of her husband saying "you first" to chase her dreams, she joked about being a comedian at heart and not playing the Hollywood game. Here's some highlights: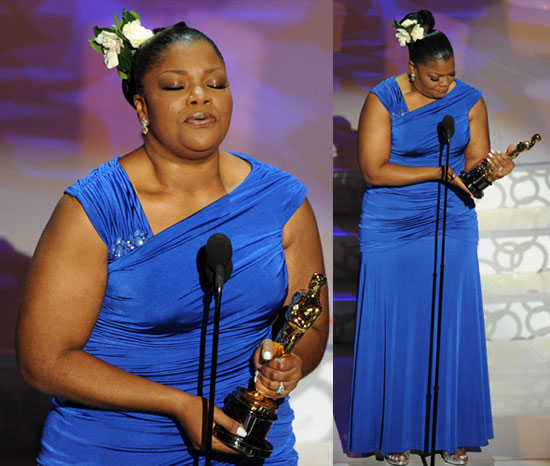 On winning: "Everything I wanted, everything I waited for, is here. I am a stand-up comedian who won an Oscar! [laughs] Oh, baby, I tickle me! You know, this role was so not about my acting career. This role has shaped my life and allowed me not to judge and to love unconditionally. If that goes into my career, great, but if it doesn't and I'm just the dynamic person that I strive to be every day, then I've won, baby!"
On seeing any of herself in Mary Jones: "Yes, and I'll ask you, have you ever had a dark moment? Did you feel unloved? Everyone has some Mary Jones in them."
On what she would say to the other Preciouses of the world: "You can. You will. And I did."
On returning to her normal life: "You know, I've said this before. When I am at home, I am Sidney Hicks' wife and mother of two.
On her speech: "Everything I wanted to say and everything I needed to say, I say."
On the criticism she received for not promoting enough: "I'm very proud to be part of an academy that says we will not play that game. We will judge her on her performance, not how many dinners she attended."