Picture of Josh Hutcherson as Peeta and Liam Hemsworth as Gale in The Hunger Games
See Josh as Peeta and Liam as Gale in The Hunger Games!
Jennifer Lawrence made her Hunger Games debut months ago, but now it's time for her leading men to take the spotlight. Liam Hemsworth and Josh Hutcherson take this week's EW cover as their onscreen counterparts, Gale and Peeta.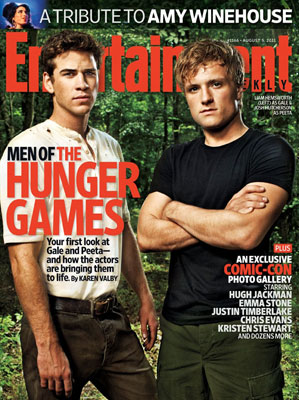 Liam seems to have Gale's signature smoulder down cold, while Josh is definitely looking beefier and blonder than the kid in The Kids Are All Right. In the article, Josh jokes about playing opposite Jennifer and how he and Liam are nowhere near being rivals off screen. Here are highlights:
On the misconception about his height: "Jennifer's not two feet taller than me! If anything, maybe she's a half inch taller."
On his friendship with Hemsworth: "I think it's going to blow people's minds when they see that Peeta and Gale are actually best friends in real life."
Now it's time to weigh in: do the guys live up to how you pictured them in the books? To get an even better look, just read more.
Check out a bigger image after the jump . . .