Pictures of Blake Lively, Selena Gomez, Kim Kardashian, Rachel Bilson and Best Dresses at 2011 Teen Choice Awards
Black, White and Bold Dresses Rule at the Teen Choice Awards
The ladies brought out the super short dresses and tall stilettos at today's Teen Choice Awards in LA. Selena Gomez was one of the first stars to arrive and dashed down the blue carpet in a champagne mini dress before ducking inside to prep for her live performance with The Scene. Nominees Ashley Greene and Kim Kardashian stepped out in black and white looks, while Taylor Swift and Rachel Bilson accessorised their chic, white dresses (Rachel's had a mint tint) with sexy stilettos. Rachel also had her younger sister Hattie along for the carpet, and the two stopped to chat with fans and pose for pictures on the way in.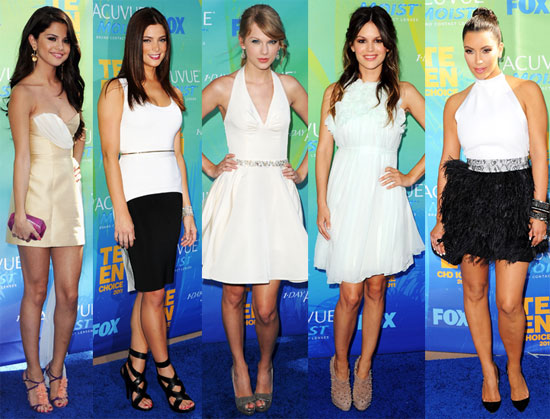 Dolce & Gabbana was the label of choice for Vampire Diaries star Nina Dobrev and Fergie while bride-to-be Nikki Reed opted for colourful maxi halter. Blake Lively played up her Summer glow in a sexy leather dress and Zoe Saldana chose Lanvin for her stunning entrance. Blake rushed down the carpet near the end and was a whirlwind of blonde hair and orange leather. Click through the gallery to see all the gorgeous fashion from your favourite stars and don't forget to vote on FabSugar and BellaSugar's fashion and beauty polls!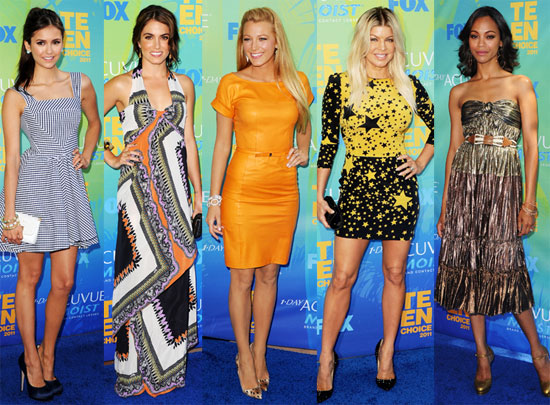 Keep reading for more photos!