Pictures From the Afterparties of the 2010 Costume Institute Gala
Photos From the 2010 Met Costume Institute Gala Afterparties!
Yesterday's Met Costume Institute Gala fun continued well into the night, with celebs heading over to the main after party bash at the Mark hotel. Diane Kruger traded her long-sleeved white gown for a short red number to attend with Joshua Jackson. She evidently hopes that soon Josh will be more than a boyfriend—when a reporter asked if a ring she was wearing signified an engagement, Diane said, "I wish." Anne Hathaway also changed out of her formal frock for something more manageable, though Emma Watson kept on her long gown. She's out on the social scene despite being in the middle of uni exams. Emma said, "I have just had one of my exams. It went pretty well, which is good, two left." Bar Refaeli, meanwhile, brought her girlfriends and not Leonardo DiCaprio along.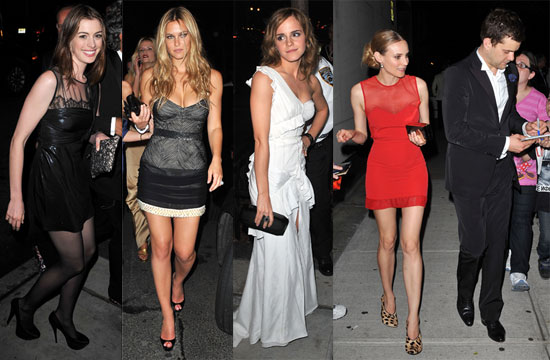 Gwen Stefani and Gavin Rossdale stuck together and Robert Pattinson's Remember Me costar, Emilie de Ravin, was surrounded by pals. Glee's Matthew Morrison headed to the Standard with Emmy Rossum hot on his heels, though once inside he was busy getting down with model Natasha Poly. Alexander Wang stayed close to Zoe Kravitz after they posed together on the red carpet and Jessica Alba brought her husband Cash Warren. While Naomi Campbell was all smiles in her fancy car. It was a huge night for fashion in the Big Apple—make sure to check out all of the style and beauty news!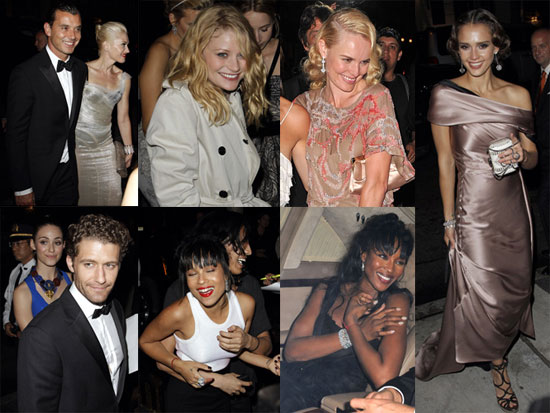 Keep reading...
Images include: Kate Bosworth, Kate Hudson, Stella McCartney, Diane Kruger, Joshua Jackson, Bar Refaeli, Liv Tyler, Gwen Stefani, Gavin Rossdale, Kiefer Sutherland, Kate Bosworth, Liev Schreiber, Naomi Watts, Edward Norton, Kristen Bell, Joy Bryant, Ben Stiller, Emma Roberts, Daniel Craig, Satsuki Mitchell, Emmy Rossum, Ivanka Trump, Matthew Morrison, Hugh Dancy, Claire Danes, January Jones, Alessandra Ambrosio, Alexander Wang, Zoe Kravitz, Anna Wintour, Amber Walletta, MIA, Benjamin Bronfman, Elizabeth Banks, Tom Ford, Emma Watson, Emilie de Ravin, Jessica Alba, Cash Warren, Eva Longoria, Rosario Dawson, Michael Kors, Brooke Shields, Anne Hathaway, Blake Lively, Chloe Sevigny, Katy Perry, Naomi Campbell, Vladimir Doronin, Marion Cotillard