Pictures of Megan Fox in July 2010's Interview
Megan Fox Is Done Trying to Throw People Off Her Scent
Megan Fox is on the cover of July's Interview and she spoke to none other than Zach Galifianakis for the inside article. She's now in promotional mode for Jonah Hex after being dropped from the franchise that made her famous. Megan has spoken recently about how her sense of satire fails to come across as she intends and it seems as though she's trying to choose her words more carefully. She opened up to Zach about being a private person, learning to not follow her own press and even her favourite foods. Megan said: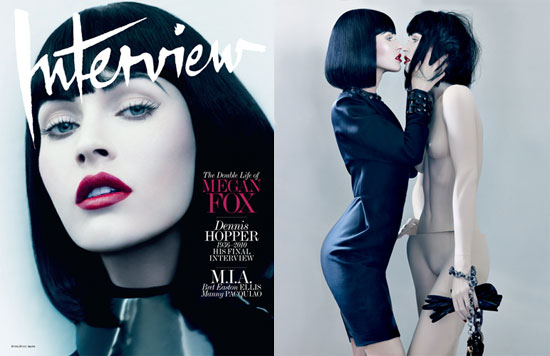 On preferring family over career: "I really, honestly, am much more focused on my personal life. I'd really like to have a family at some point. Not that I'm not focused on my career—of course I am. But I'm just at that place where I want to spend some time at home and on my family. And if a great project comes my way, then of course I'll take it. But I'm not actively out seeking something specific."
On learning to choose her words carefully: "I only hear about things when they reach a sort of Def-Con status and my publicist calls me because we have to do some damage control. But I do feel like, if anything, I've sort of made it worse. In the past I've been reluctant to share any bits of truth about myself or to really let people in on my reality, so I have said some things to throw people off the scent of what's really going on in my life. So I have sort of aided the media in printing these misconceptions, which I regret. I've just come to the realisation at this point that if I don't feel like sharing, then I'm just not going to share. But I'm not going to go out of my way to mislead people or keep them at a distance, because that doesn't really get me anywhere either."
On her favourite foods: "I was raised in the South, in Tennessee, so I'm going to go with comfort food, soul food. I would probably start with collard greens and candied baby carrots and then have some biscuits and white gravy—and for dessert, probably blackberry cobbler. Having been in a relationship since I was 18, I'm very domestic, but I don't enjoy cooking for myself. I don't mind cooking for other people—and I like doing it for Brian [Austin Green] and his friends. But I don't like cleaning or washing dishes, although I don't mind doing laundry."
Images courtesy Craig McDean for Interview