Pictures of Sex and the City 2 London Afterparty
The Sex and the City Girls Have a Fabulous Wardrobe Change For Their London Afterparty!
The famous foursome of Sex and the City 2 traded in their red carpet gowns for another set of dresses to attend the London premiere afterparty at Odeon. Sarah Jessica Parker also took a rest from supporting her dramatic Philip Treacy headpiece that had everyone talking. Her gorgeous blue frock for the post-screening bash provided a beautiful splash of colour to proceedings, while Kristin Davis, Kim Cattrall and Cynthia Nixon all changed into something shorter—who is your best dressed this time? Chris Noth stuck to his dapper Mr. Big style throughout the soiree. Meanwhile, Emma Roberts stayed out late no doubt celebrating her own movie news—she's signed on to be the lead in Scream 4! Watching the SATC2 red carpet fashion has been a blast and we can't wait to see the fab four up on the big screen when the film hits cinemas on Wednesday.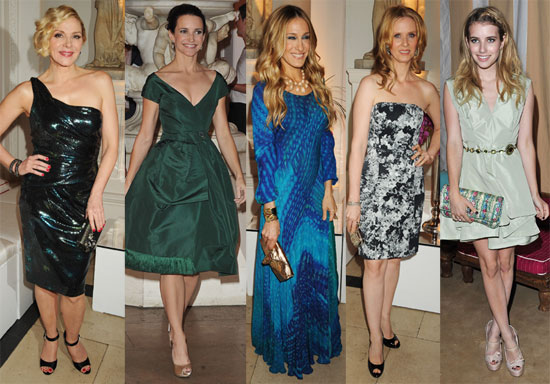 Keep reading...