Pictures of Tom Cruise In Esquire June 2010
Tom Talks Oprah Couch-Jumping and How to Be a Man
Tom Cruise flashes one of the most famous smiles in the world for the cover of Esquire's June "How to Be a Man" issue. He's out promoting Knight and Day and when it comes to talking about what makes him tick, it's all about family. In the issue, Tom reflects on his own childhood, his difficult relationship with his father and getting into the business, as well as all the happiness he has now with his kids and Katie. He also tackles the Oprah couch-jumping incident and its unexpected fallout. Here are highlights: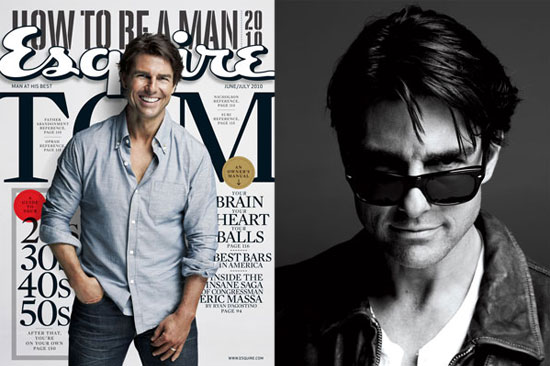 On the Oprah couch-jumping: "What happened, happened . . . I wanted the audience to be happy just like I wanted to make my sisters and my mother happy . . . as a kid. But I'll take responsibility for my actions . . . Afterward, wild things were being said about me, and once they're in the ether, there's nothing you can do about it. It felt like being the new kid in the schoolyard again and the other kids are whispering and whispering about you and suddenly you hear what they're saying, and you think, What? That didn't happen. Look at the reality of the situation."
On Katie: "Because we do live in a cynical world. It's easy to be cynical. Making the choice not to be cynical is important. You can keep dwelling on what didn't work, or you can figure out how to fix it. Which is what being a parent is all about. You know, I'm married to such a special woman. Every night before we go to sleep, Kate and I look at each other and it's like, How'd we do today?"
On Suri: "It's come full circle. Now I'll put Suri on a swing and tell her stories when I'm working on a script. I'll start with the beginning of the movie and take her through the story beat by beat. Of course, I make it age-appropriate. She's four years old. But she asks all the right questions: Why does that happen? Those are the bad guys? You're the good guy, right?"
Keep reading . . .
Keep reading . . .
On teaching Suri: "It comes down to the same thing as when I was a kid. Can I create a character that will make her happy, that will make her laugh? And you know what? She makes me get better and better, because she's always asking me to do it again."
On the Oprah fallout: "There was a confluence of events. My deal with Paramount was up and it wasn't extended. At first it was, Huh? I don't get it. But people have misconceptions about that whole thing, too. Sumner Redstone and I are friends. It's a business."
On being a dad: "I'll never forget the moment I became a dad. But it's hard to describe—that level of responsibility, the desire to give such joy. The clarity: Nothing is more important than this. I remember that first night, just staring at Bella. I was checking her every second, just looking at her, feeling that immediate bond. I was probably looking at her so much that I was keeping her up. I made a promise to her: All I can do is the best I can. But I'm not going to say I'm gonna do something and then not do it."