Pictures of Xavier Samuel Inside June/July Issue of Interview Magazine 2010-06-15 16:30:46.1
Eclipse's Xavier Samuel Is Sexy When Wet For Interview
Xavier Samuel is the new guy in the Twilight saga and he's bringing enough sexy to compete with his big-name costars as one of Interview magazine's hot leading men. The 26-year-old Aussie plays newborn vampire Riley in the upcoming Eclipse and carries some of the movie's most intense scenes, including the big battle between Robert Pattinson, Kristen Stewart, Taylor Lautner and his onscreen love Bryce Dallas Howard. He sat down with Bryce for a charming and candid conversation answering her questions about fans, fame and playing a villain in the latest installment of the saga. Here's more: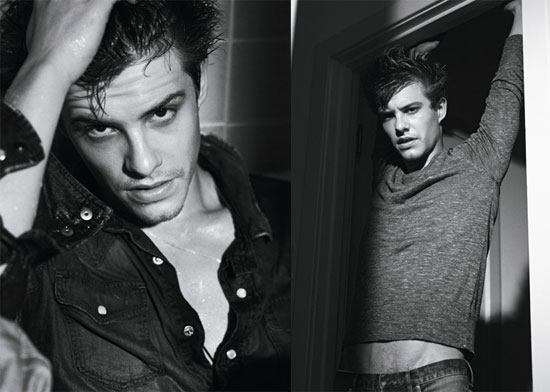 On handling fame and fans: "It's kind of like being struck by lightning in a way, because it all seems so improbable. I mean, it's kind of bizarre, isn't it? Having that kind of attention . . . I'm not under the microscope in the same fashion that a lot of the other cast members are, so I think I can slide under the radar a little bit more, but getting any attention at all is completely new for me."
On what he plans to do next: "Well, it's about finding the time to be able to do some theatre, which I'd really love to do. Right now I'm just happy to work with people I admire and who will help me grow as an actor. But there are a lot of great emerging Australian playwrights who would be great to work with. I also think it'd be great to do another Australian film soon. I'd really like to continue to support what's going on in Australia in general, so that's a big priority for me. There are a lot of exciting opportunities. I just want to be involved in something that's going to be an enriching experience."
Keep reading...
On playing a villain: "A lot of the roles I've played in Australia have been kind of introspective boy-next-door things, so it was juicy to get to play a villain who's being manipulated in this bloody Macbeth scenario. But it's also kind of intimidating, in a way, to step onto a big set like that for the first time. There was no real frame of reference for me, because most of the films I've been involved with in Australia have been smaller in scale."
On what drove him to nail the part: "I mean, being in a film like Eclipse is such a great opportunity—and there's a massive fan base with these Twilight movies that you need to respect. So I don't think I could sleep at night if I didn't give it my best shot."
Our Pop US sistas had an opportunity to chat with Xavier over the weekend and we'll be sharing the video later this week. But for now, check out what Kristen Stewart and Taylor Lautner had to say in our exclusive clips from the junket!