Popular MasterChef Australia 2012 Contestant Amina Elshafei Elimination
MasterChef Favourite Amina Misses Out on Top 10 After Surprising Double Elimination Result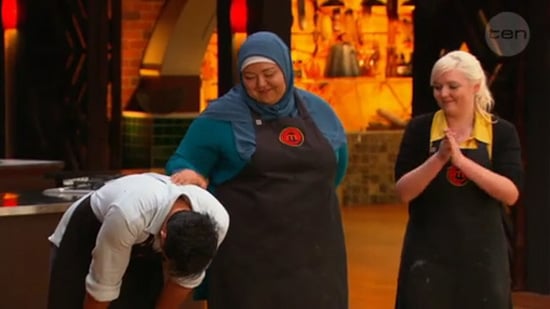 Popular MasterChef contestant Amina Elshafei was eliminated from the competition last night along with Jules Pike. The double elimination saw the blue team from Wednesday night's pop-up restaurant challenge cooking under the eye of Marco Pierre White, who stepped in as a mentor for the episode. In the first round of the elimination, Amina, Jules, Andy, Debra, Audra and Wade had 20 minutes to create an entree, which resulted in Wade, Audra and Debra going straight through to the top 10. Andy, Amina and Jules were left to save themselves with a main course and dessert of their choice to be cooked in an hour. Judges Gary Mehigan and George Calombaris said Amina's blue-eyed trevalla tagine wasn't flavoursome enough and that her Egyptian rice pudding was slightly undercooked, which was enough to send her home on this occasion as Andy took the last top 10 spot.
More when you keep reading.
Amina will probably be viewed as the Marion Grasby of this series — a fan favourite, a joyful person and overall a delight to watch. Earlier in the year Matt Preston (who wasn't in last night's episode) told us, "We have to stand by our decisions and why people go home. It's about not manipulating stuff. You know, Marion going in season two, she was such a popular contestant. Hayden [Quinn] last year, every time he did a challenge or did well, our ratings used to leap by about 10 to 15 percent . . . They both went home around seventh or eighth and that's ratings death, but the very simple rule is if we get dishes and one's better than the other, the better one always stays regardless of who it is. That integrity is very much the heart of the show." As well as missing out on a spot in the top 10, Amina and Jules missed the opportunity to travel to Italy for the show.
In a post-show statement, Amina, a nurse, said, "I'm feeling pretty sad and disappointed to be leaving. I had imagined of making the top five, but I guess that's out of the question now. However, I am leaving with wonderful memories, experiences, new friendships and an incredible confidence boost . . . I will be able to start making my dreams come true."
The top 10 contestants of MasterChef 2012 are Kylie, Ben, Julia, Alice, Andy, Wade, Mindy, Debra, Audra and Beau.