Pregnant Dannii Minogue in InStyle Magazine UK, August 2010. Dannii Talks Pregnancy, Kris and Kylie 2010-07-04 19:30:55
Pregnant Dannii Minogue Dazzles in InStyle UK
Glowing Dannii Minogue is due to give birth to her first child any minute day now and she took some time out from the baby prep recently to chat to InStyle UK. In the accompanying photoshoot she looks naturally gorgeous, talking about the fact she's given up Botox. She also chats about her famous sister, Kylie Minogue, her man Kris Smith and her pregnancy too. Here are some extracts: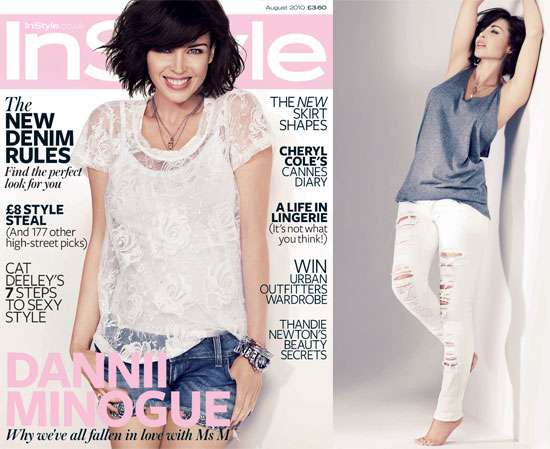 On Botox: "When I used Botox for a period, constantly, it was just to hide all the grief I was going through—with what was happening to my sister, then losing my friend. I couldn't even look in the mirror, I was so sad. Now, I'm happy not to have Botox and I don't mind all the expression lines. For 38, I'm not doing too bad."
On Kylie and kids: "The most hilarious thing is that I don't know anything about looking after kids. Even when I'm with my nephews, I look at my brother Brendan and at Kylie like, 'What do I do next?'' Kylie is a natural with kids. The last time she was back in Australia, we all went to our family farm. I looked out the back window and I could see her rolling across the grass with our nephew and I thought, 'She just knows what to do'."
On meeting Kris: "On paper, it shouldn't work. You shouldn't meet 'the one' in a nightclub in Ibiza! He's very calm, very chilled out. Whereas I'm over-motivated and doing too much. He'll say, 'Will you stop doing these things and calm down?'. I need that around me. He says things to me all the time that make me go… 'That's exactly what I want to hear'. It's a girl's dream, he says the things you want your boyfriend to say. But he doesn't take any s*** from me—he tells me off when I need to be told off."
To read more from Dannii on Kris and pregnancy, read on.
Keep reading...
On Kris's appreciation of her pregnant body: "He's just so rapt with everything. He's so loving and adoring. Even when I moan, 'My butt's getting bigger', he says, 'It's beautiful, I love every bit'."
On her hormones: "I don't know what the pregnancy hormone is, but I wish I could bottle it and have it forever. I'm so calm and I just laugh at everything. Kris keeps saying, 'Who stole my girlfriend? Who are you?' I'm normally more wound up and controlling."
On having more kids: "I never saw myself as having kids, so now it's happened I'm still in shock. I'm the person who not long ago said, 'No, we're not having kids'. But now I'm thinking, 'Maybe I'll want another one?' I'm looking at Heidi Klum—she's on the red carpet pregnant, has a baby, then she gets pregnant again and has another baby. She manages to be a mother, run a few different companies and produce her own TV show."
On being able to be herself with Kris: "Yeah, I can be vulnerable if I need to. Kris is very protective—physically and every other way. I love that. When you're a working woman, you don't want to come home and be the protector and be controlling things. You want the guy to do that."