Press Room Interview With Precious Star Gabourey Sidibe at the 2010 Oscar Nominees Luncheon
Gabby Sidibe Just Wants to Meet The Jerk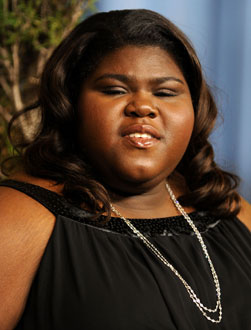 Gabourey Sidibe was the first brave soul to chat with reporters today in the press room at the 2010 Oscar nominees luncheon. The Hollywood newcomer was effervescent and witty as usual, even quipping that the reporters should stand when giving her a round of applause upon her entrance. Gabby admitted that she still hasn't found her Oscar dress yet, but wasn't shy when it came to expressing her excitement about the big night ahead. Here's what she had to say:
On how fans of the films have responded: "So many people have come up to me and told me about their experience with abuse and neglect. There's not really one in particular that stands out, because they're all special and they all evoke emotion in me. A lot of people told me that the first person they've ever told is me. It's a little strange, but people feel like they have a connection to Precious through me and the movie. It's special."
On Oscar night excitement: "This is the one that everyone's been talking about, since Sundance. It feels like . . . well finally, we're finally here!"
On the celebrity she'd most like to meet: "I'm dying to meet Steve Martin. My mum has a crush on Steve Martin and we used to watch The Jerk pretty much every day. So I'm really excited that this show will be hosted by Jack Donaghy and The Jerk."
Stay tuned for lots more from the Oscar nominees!