Prince William's Essay About East Anglian Air Ambulance
Prince William Pens Touching Goodbye Letter to His Co-Pilots: "Your Skill Is Astounding"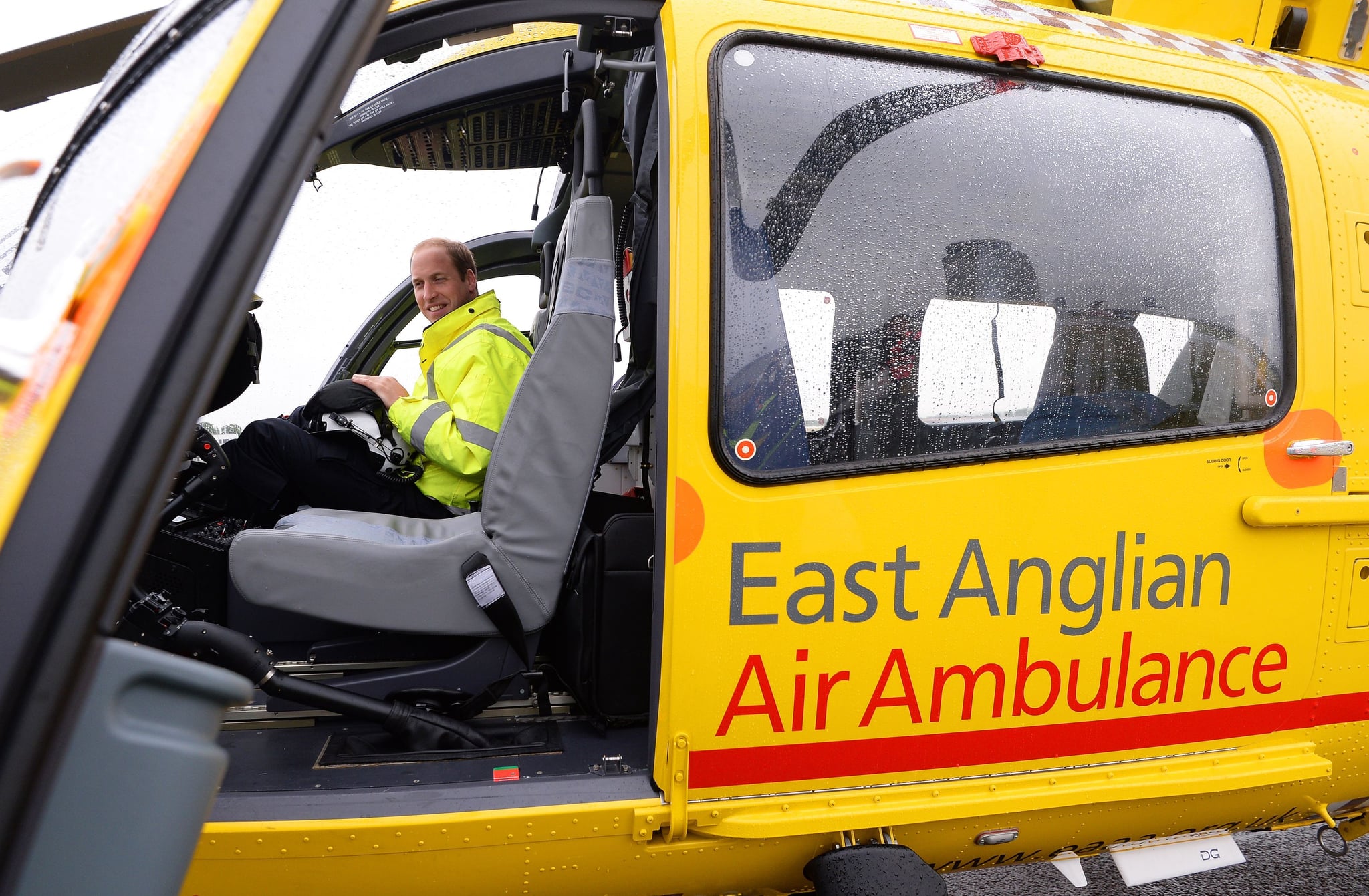 In 2014, Prince William broke with royal tradition by taking on a new job as a helicopter pilot with the East Anglian Air Ambulance. Over the years, he was candid about how dangerous his work could be, as well as the "sad, dark moments" he and his co-pilots witnessed daily. Although he's been scaling back his work at the charity due to his move to London with his family (who get more adorable by the day, we swear), William knew the perfect way to commemorate his final shift as a pilot on Thursday.
The 35-year-old royal wrote a touching letter for the Eastern Daily Press sharing the "profound respect" he has for his colleagues in the EAAA, and it sounds like he truly cherished the opportunity to work alongside them.
"Over the past two years I have met people from across the region who were in the most desperate of circumstances. As part of the team, I have been invited into people's homes to share moments of extreme emotion, from relief that we have given someone a fighting chance, to profound grief," he said. "I have watched as incredibly skilled doctors and paramedics have saved people's lives. These experiences have instilled in me a profound respect for the men and women who serve in our emergency services, which I hope to continue to champion even as I leave the profession. I am hugely grateful for having had this experience."
William also touched on how grateful he was to be treated as an equal, just another pilot there to do an important job, rather than a prince. "From the moment I joined, when that phone rang at the base for the first time, it was clear that I was a fellow professional, a pilot with a job to do — in such a team there can be no other option," the proud dad continued. "But still I am grateful to my colleagues for accepting me so readily."
Since moving back to London, William and wife Kate Middleton have been ramping up their duties with the royal family, most recently travelling to Poland on an official tour and spending some time in Germany. In his letter, William emphasised that his time in the public eye has not made him be any less blown away by his job with the EAAA.
"I have watched our medical team perform surgery on a patient within minutes of jumping off the helicopter — their level of skill is astounding," he gushed. "As a team, we travel to some very daunting incidents and we have been though some incredibly tough times together, witnessing some appalling tragedies. One of the first call outs I made was to a young man who had committed suicide; it was an incredibly tough day and had a profound effect on all of us, not least in my determination now to draw attention to this issue."
William has indeed dedicated many of his philanthropic endeavours to spreading awareness about mental health, an initiative that he works on with both Kate and brother Prince Harry. It's clear that his time flying with the East Anglian Air Ambulance was an important milestone in his career, which he summed up best at the end of his letter: "As I hang up my flight suit, I am proud to have served with such an incredible team of people who save lives across the region every day."