Prinnie Stevens Interview: Celebrity Apprentice & The Voice
TV Talk With Prinnie Stevens on The Celebrity Apprentice and The Voice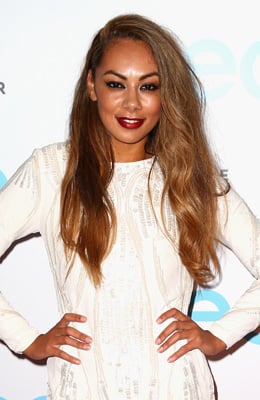 Prinnie Stevens was the first person to be eliminated from The Celebrity Apprentice after the fish and chips challenge. She put her head down and worked hard in the kitchen to cook the food, but in the boardroom her feedback from Mark Bouris was that she didn't utilise her talent enough (singing) and didn't hit up her black book of contacts, such as stars from The Voice, for donations. It came down to Prinnie and Big Brother 2012 runner-up Layla Subritzky, but in the end it was Prinnie who had the dreaded words, "You're fired," directed at her. I caught up with Prinnie at the CLEO relaunch party to get her scoop on the show, as well as her thoughts on the new season of The Voice.
What was the most surprising thing about doing the show?
Just how much everybody clashes, and just how celebrities don't get on [laughs]. I thought it was going to be all fun, but there's a lot of hard work that's involved, and it's hard asking people for money for charity — even though we know it's a great cause, it's hard to get people excited about giving away their money. But it was a great cause and I enjoyed every second of it.
How did you feel about the boardroom scenes?
So scary! Mr. Bouris is the scariest man I've ever met in my life — and the most handsome man I've ever met in my life!
More from Prinnie when you keep reading.
How did you feel about people's comments that you weren't using your talent to its full potential, even though you felt you were contributing a lot?
I think it just really sums me up as a person. I mean there's three minutes that I spend onstage out of 24 hours; I'm usually just working really hard at what I do. I'm all about doing the hard work and not so much being in the front, even though I am a singer and people think I want to be at the front — it's kind of the misconception of who I am. If that proves something [about me] on the show, then I'm happy I did it.
I've seen from Instagram pictures that you and Steph [Rice] are quite close. Would you say you bonded the most with her?
Most definitely. Her and I are like BFFs now! She's awesome. I'm close with everybody on the show, it's just I really found a great bond [with Steph]. She's a great friend I'll take away from this.
Who did you clash with the most?
I don't think I was there long enough to clash with anybody. I was still in the honeymoon stage. I think I got out early enough to not get into the craziness. I think if I'd stayed another week I definitely would have clashed with somebody.
What do you think about The Voice this year?
I'm loving it! My cousin, Rob [Edwards] is in it, he's on Team Delta, so I'm loving him. The talent is awesome — very different to last year, but it would be boring if it was the same.
What do you think about the new 'save' function? Do you wish it was there last year?
I think I was in the best battle from last year, one of the best, and I wish Mahalia [Barnes] had been saved. So from being in such a great battle I wish it was there last year, but I'm happy for everybody this year that it's there.