Queen Elizabeth II's 70th Anniversary as a Freeman 2017
Queen Elizabeth II Returns to the Place She Became a Freeman 70 Years Later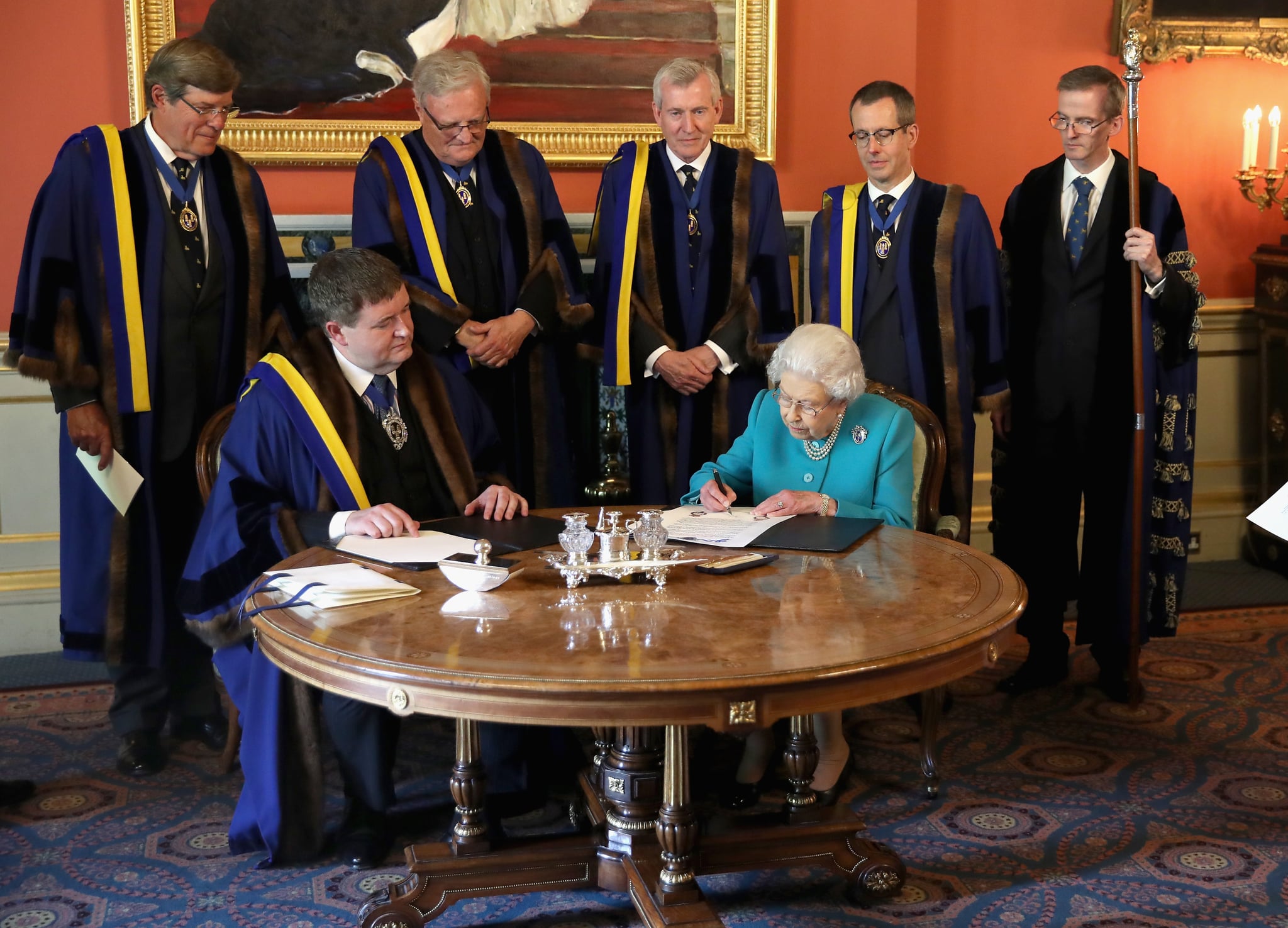 Image Source: Getty / Chris Jackson
Queen Elizabeth II took a break from binging The Crown on Wednesday to celebrate a very important milestone in her time as monarch: the 70th anniversary of her admission to the Freedom of the Drapers' Company. She visited Drapers' Hall in London to mark the occasion, where the 91-year-old was presented with a photo of the day she was admitted to the group back in 1947. The queen's admission to the Freedom of the Drapers' Company was another way she followed in the footsteps of her father, King George VI, since he himself became a Draper in 1919. During her time there, Queen Elizabeth also made sure to sign the Instrument at Drapers' Hall — a document drafted by professional calligrapher Tim Noad on vellum — to cement her 70th anniversary visit.
The Queen views displays at Drapers' Hall, including a photo taken of HM's admission to the Freedom of the Company on 20th May 1947. pic.twitter.com/WQQGgz8SHz

— The Royal Family (@RoyalFamily) May 31, 2017
The Drapers' Company's history goes back to the year 1361, when it was formed as a trade association of wool and cloth merchants. Three years later, it received a Royal Charter, which allowed it to become one of the Twelve Great Livery Companies in London, amassing prestige and power. Today, the company's focus has shifted to providing young students with educational opportunities and aiding organisations in finding care for elderly and homeless people.
The queen attended the event solo since her husband, Prince Philip, was busy honouring a different occasion. Wednesday also marked the 130th anniversary of London Youth, which happens to be the first royal patronage he ever took on. Instead she was escorted out of the building by another member of the Drapers' Company and gifted with flowers by some adorable students of the Drapers' Maylands School.
The Queen receives a posy from pupils of the Drapers' Maylands School following today's visit to Drapers' Hall 🌺 pic.twitter.com/9AZrBVoMy3

— The Royal Family (@RoyalFamily) May 31, 2017