Quotes From Hugh Jackman at the 2010 People's Choice Awards
PCA Press Room: Hugh Jackman Talks Oscars and Wolverine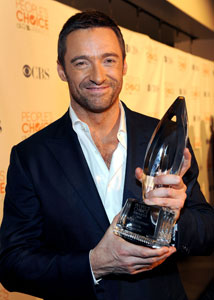 Hugh Jackman brought his huge grin to the press room after his win for Favourite Action Star at the People's Choice Awards. Hugh joked about leaving his award on his doorstep to tell the world about his new title, plus his attempts to get his kids into comic books. Here are some other highlights:
On what the award means to him: You know what? It really doesn't mean a lot because when I was in primary school, my best buddy Simon used to say I was gonna be an action star, and he used to call me "Huge Action." And I said he was crazy, and I actually made a bet and I bet against him. So it doesn't mean a lot to me because I now owe him 20 bucks.
If he wasn't an actor: He'd be a journalist or a daytime talk show host.
His childhood crush: Olivia Newton-John
His Oscar pick: Precious
To see what Hugh had to say about Steve Martin and Alec Baldwin, plus who he'd choose to play him in a biopic, keep reading.
On giving hosting advice to Steve Martin and Alec Baldwin: Me giving tips to Steve Martin? Both of them are such pros, I think it's a really exciting idea. Personally, I love Steve as a host. In fact, I rang Steve three times when I was hosting the Oscars, and he gave me these tips. He taught me ...Trust me, there's nothing that Steve Martin can learn from me. Absolutely nothing. As for Alec, he's hilarious. And the great thing about Alec is that he's so unpredictable, and he's going to release it. And the two of them together — they just have such great chemistry I thought it was a really brilliant, smart choice.
On the actor he'd choose to play him in a biopic: That would be a boring movie. . . but maybe not if George Clooney was in it.