Quotes From Knight and Day's Cameron Diaz in Harper's Bazaar 2010-07-08 14:30:38
Cameron Diaz Reveals Her Yankee Fandom in Harper's Bazaar
Cameron Diaz struck a pose for the August cover of Harper's Bazaar US. She posed for an NYC-themed spread inside the magazine, shot by photographer Terry Richardson. Cameron's been busy promoting Knight and Day around the world with her costar Tom Cruise and the pair are currently in Brazil for their latest premiere. Cameron shared with the magazine about her work and her famous body—she also touched on her boyfriends, both past and present, by commenting on working with Justin Timberlake in Bad Teacher and making a passing reference to her current flame, baseballer Alex Rodriguez. She said: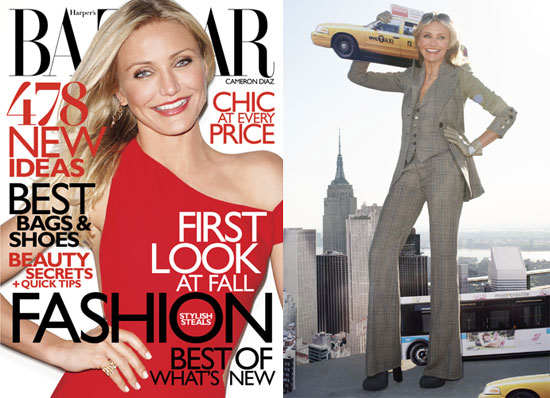 On her love life: "I grew up with the Dodgers, but now I'm a Yankees fan."
On her behind: "Most booties that propel girls are usually the bigger booties. I have a little tiny one, but it is, nonetheless, juicy."
On bad boys: "I've always loved men and boys. I don't get hung up on what boys do. I don't have a nagging nature. I feel like I can be a woman but also relate to a man . . . Who doesn't like the bad boy, until you grow up and realise bad boys are not the way to go? I'm done with that."
On working with Justin Timberlake in Bad Teacher: "Justin and I have laughed together for years. He is the funniest guy; you've seen the stuff he does on SNL."