Rachael Finch Gives Birth to a Baby Girl
Rachael Finch and Michael Miziner Name Their Baby Girl Violet!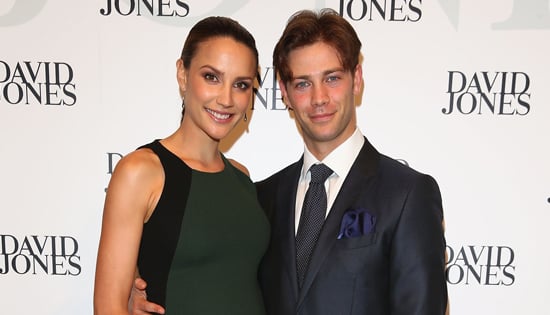 Update: Rachael Finch and Michael Miziner have named their baby girl Violet Rachael Miziner. They shared the first photos of their newborn girl with New Idea magazine and revealed that the natural birth was relatively quick. They also shared special details about how Violet came into the world, telling the publication that they created a music playlist featuring artists like John Legend and Missy Higgins for the delivery, which happened nine days after Violet's due date.
The former Miss Universe Australia and her husband Michael Miziner welcomed their first child on Sept. 24, and said in a statement to the Daily Telegraph Rachael said, "Michael and I are excited to announce the arrival of our first child. We are both healthy and happy and taking this moment to rest and spend time with family. We would like to thank everyone for their support and well wishes."
Rachael stayed busy throughout the course of her pregnancy and even posed for a swimsuit shoot at eight-and-a-half months. She also documented her pregnancy on social media, posting a candid baby bump shot on Facebook. The couple met when they were partnered on Dancing With the Stars in 2010. Congratulations to Rachael and Michael!