Rachel McAdams, Javier Bardem, and Christian Bale to Star in Terrence Malick Romantic Drama
Rachel McAdams Gets a Handsome New Pair of Costars
Hollywood has seen some pretty hot love triangles over the years, but it looks like there's an exciting new one coming our way. Rachel McAdams, Christian Bale and Javier Bardem (cue drooling) are slated to star in Terrence Malick's new feature, a romance drama to be named later. Quantum of Solace's Olga Kurylenko will also star.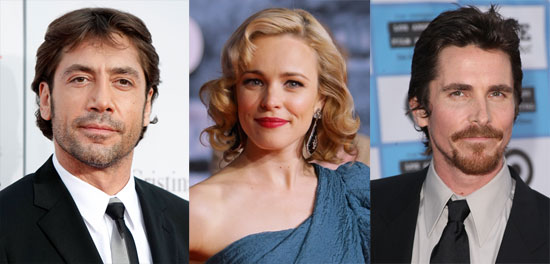 Not much is known about the film just yet, but this trio of cast members is enough to get me excited. Not only am I glad to see Bale take a break from the grittier fare he's become known for, but I'm equally happy that Javier Bardem is beefing up his schedule again after a long post-Oscar-win break.
How do you feel about this news—and more importantly, who would you rather see McAdams paired up with?