Recap of Glee Episode "The Rocky Horror Glee Show"
Glee-ful Highlights From "The Rocky Horror Glee Show"
It's no secret that all of us have been looking forward to this week's Rocky Horror-themed Glee with much antici . . . pation. We've even been talking about it since the announcement of the episode at Comic-Con. So how does it live up to the hype?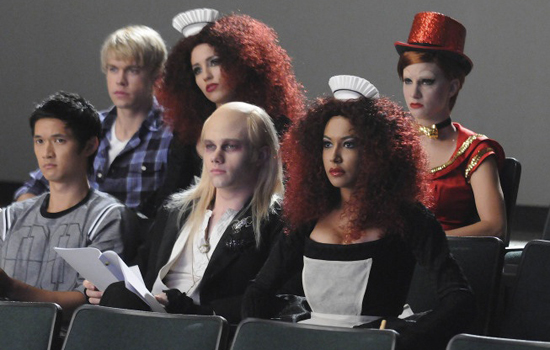 It's not that the tribute show isn't fun in spirit (it absolutely is) or that the New Directions kids don't sound great doing their renditions of the Rocky Horror songs, but to me, the episode feels a little anticlimactic. Not to worry, because there's still plenty of good to discuss. Let's review when you read more.
Keep reading . . .
Excellent intro, Glee! The show does Rocky Horror proud by kicking off the episode with giant red lips singing the opening. It's the perfect nod of reverence to the musical.
Right up front, we discover the real reason why the New Directions are putting on Rocky Horror: Will's feelings for Emma (or is it his ego?). After he realises that she's happy with Carl (he's even stopped her from cutting her sandwich crusts!), he's feeling desperate to win her back. She mentions that she and Carl went to a showing of The Rocky Horror Picture Show, so Will blurts out that the kids are reenacting the musical, getting himself into quite the pickle.
Sue's Halloween edition of "Sue's Corner" may be my favourite yet. The topic: fear, as in, how to instill it in your children. Her sensationalist approach attracts the attention of two local station managers (it's Rocky Horror alums Barry Bostwick and Meat Loaf!) who enlist her to do a sneaky expose on the kids' musical performance. She joins the production under the guise that she wants to help the arts, so Will puts her in. How does he not spot her scheme from a mile away?
Finn is conflicted about his muffin top. As Brad, he's required to strip down to his undies, and the thought of standing in front of the school without a shirt has him sweating. The guys hop up on a soapbox about how men are objectified nowadays (Artie blames it on porn), until Finn decides to fix his problem by boldly walking down the hallway in his boxers. I think the boys' body image would actually make for an interesting episode on its own, but the subplot gets overshadowed by all of the Rocky Horror flash.
Things I never wanted to see: Will Schuester's face during "Touch A Touch A Touch A Touch Me" as he speaks into the camera. When Mike Chang drops out of the production, Carl swoops in to help by playing Eddie—which threatens Will, of course. To counterattack, Will boots Sam from the role of Rocky to take over the part himself (didn't he learn to stay out of the glee productions after the Toxic performance?). He asks Emma to "rehearse" with him, and whoa does Emma get into it. She strips Will's shirt right off and nearly kisses him before running out of the room. Will later apologises for the stunt, telling Emma that if he "really loves her" that maybe he should let her be with Carl. Sweet, but you know John Stamos isn't going to be on the show forever. How long until Will and Emma reunite?
What's your final verdict of

Mercedes

as Frank-N-Furter? I know many fans were up in arms about her taking on the part, but I kind of liked her rendition of Sweet Transvestite. Hey, if nothing else, she has the attitude down! That being said, I would've enjoyed seeing more of Kurt in character as Riff Raff or just the costumes in general. Rehearsing Rocky Horror in the glee room isn't nearly as fun as watching an all-out production.
So after all of the drama and multiple casting changes, that's it? No actual Rocky Horror performance?! Will pulls the plug on the show once Becky reveals Sue's plan to bring glee club down. But first, he gives a cheesy motivational speech about how the original Rocky Horror was a favourite among social outcasts (like New Directions . . . get it? Get it?). The episode closes with Time Warp, which is fantastic—but it still left me wanting more.
So did the special episode live up to your expectations, or do you feel let down? Which song was your favorite? Get talking in the comments below!