Recap of Glee Season Three Premiere Episode The Purple Piano Project
Glee-Ful Highlights From "The Purple Piano Project"
Glee is back for season three, and the brand new school year has brought with it a few shakeups: several characters have quit the glee club, a few are off the show entirely (Sam, we hardly knew ye), and since it's senior year for a few of the students, we're starting to see plans form for when the year ends.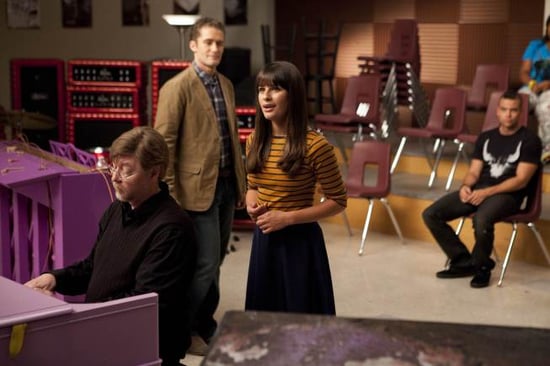 The season opener set up some arcs for the next few months, but it also glossed so quickly over many things that changed my head was spinning. Still, it's nice to see the gang back — even if they're not singing all together again yet. It's time to talk about everything that goes down in the episode, though, so let's go over it all when you read more.
Keep reading . . .
What a difference a Summer makes! Sam's gone, his departure explained by

Mercedes

, who says that his dad got a job somewhere else and they moved. But don't think Mercedes is wallowing in heartbreak — she has a new boyfriend, Marcus. Santana and Brittany are back on the Cheerios, and Lauren is out of the club, having decided she's too cool for it. Quinn also quit and has embarked on a rebellious phase, complete with pink hair, nose ring, an "ironic tattoo of Ryan Seacrest," and a new group of girlfriends who call themselves "the skanks." Will and Emma are now happily coupled, but her neuroses are still intact — and her prudishness, too, to Will's frustration.
Everyone is starting to think about future plans, especially seniors Finn, Rachel, Kurt, and Mike. Finn is a little fuzzy on what he's going to do, but Rachel and Kurt are more than happy to talk about their plans: they want to move to New York together, go to college, rule Broadway, win several awards — the usual.
With Quinn, Lauren and Sam out of New Directions, the club needs to recruit new members. They perform "We Got the Beat" during lunch, and it's a fun little number, but, unfortunately, they choose the cafeteria, which puts them on the receiving end of a food fight. No one wants to try out — except for Sugar Motta, a girl with self-diagnosed Aspergers and absolutely no talent (Rachel's look of satisfaction at realising Sugar sucks: priceless). Will wrestles with accepting Sugar into the glee club, but ultimately decides that it's not the best thing for the group, and he lets her down. From her reaction, it sounds like we haven't seen the last of Sugar Motta.
Sue announces her plan for running for congressional district, and she decides that her platform is antiarts in schools. She sets about destroying the purple pianos Mr. Schuester brought in for the kids, putting the two of them at odds again. Guess Sue is still going after the glee club, with a slightly different angle. Yawn.
Welcome to McKinley, Blaine! Kurt wants his boyfriend around more, and he gets his wish — Blaine gets out of his Warbler outfit and into a sweet little bow tie. Blaine's plan for "easing" himself into New Directions is by boogying up and down the McKinley High steps. It's over the top, but I was actually digging the Tom Jones cover as well as the unexpected pairing of him and his personal back-up dancer, Santana. Digging it, that is, until the Cheerios set the purple piano on fire. It's a showstopper, for sure, and Santana pays for her involvement in the act by getting kicked out of the glee club by Mr. Schue.
Kurt and Rachel learn there's no musical theater program at Julliard, but Emma tells them about the New York Academy of Dramatic Arts. But when they check it out, they find a group of people with personalities similar to their own (including Harmony, Lindsay Pearce of The Glee Project). Realising that neither of them are snowflakes, Rachel and Kurt have a pity party in the car, worrying that they might not be as successful as they'd assumed. They give each other a little pep talk, and before you know it, they're back to normal, with Rachel leading the glee club into a purple-clad number of "You Can't Stop the Beat."
There are a few things I'm excited to see more of, like Blaine's transition into the club (will he be a total diva or learn to take a backseat sometimes?) as well as things I could do without, like Sue's political campaign. What did you think of the episode and the "new directions" (yep, I went there) of season three?