Recap of Mad Men Episode Christmas Comes But Once a Year
Mad Men's 5 Maddest Moments: Episode "Christmas Comes But Once a Year"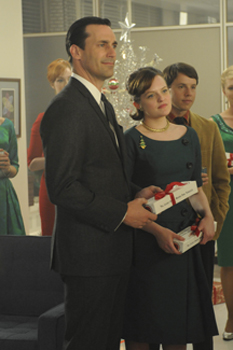 It's a Mad Men Christmas! On this week's episode, Betty, Henry, and the kids go tree shopping, and the office celebrates with an impromptu party—but of course, all is not as cheery. Don is suffering from holiday loneliness, Peggy has boyfriend troubles, and Lee Garner Jr. wants nothing more than to make Roger look like a fool (seriously, how much longer can they put up with that guy before they just let go of the Lucky Strike account?). In an especially sad moment, Sally sends a letter to Don—addressed to Santa—admitting that all she really wants is a visit from her father on Christmas morning. But on the upside, there's a conga line! I'm ready to break down some of the maddest moments of the evening, so let's get down to it when you read more.
Keep reading . . .
Dipping your quill in the company ink: Don is back to breaking hearts. Though he didn't get far with last week's blind date (a friend of Jane's), this time around, he had nearly three new love interests making eyes at him. There's his next-door neighbor Phoebe, a focus group guru named Dr. Faye Miller, and, finally, his own loyal secretary Allison. After Don leaves his keys at the office, Allison goes to deliver them at his apartment, where he persuades her to join him on the couch despite her (very weak) protests. Afterward, Allison is beaming as if she's in love, but the following day, Don hands her a holiday bonus as if nothing ever happened. Yet another crushed soul at the hands of Don Draper. On a side note, Dr. Miller tells Don that he'll be married in a year—do you agree, or do you think he'll stay a bachelor?
Little criminal-in-the-making: Sally bumps into Glenn—the same boy who once asked Betty for a lock of her hair—at the Christmas tree lot, and soon he's calling her at night to talk. It seems like an innocent crush at first, but after Sally confesses to Glenn that she wants to move out of the old house, he breaks in with a friend and the two trash the place. The only room left untouched: surprise, surprise, it's Sally's. Glenn does, however, leave her a little braided plastic gift on her pillow, which she gives a knowing smile. If these two children put their heads together to torture Betty, she's in for a real treat. Speaking of Betty, she had minimal screen time.
Freddy's back!: Yep, the man who peed his pants after drinking too much returns to the fold by promising a new client: Pond's. Freddy says the Pond's head honcho is a frat brother of his, but in truth, they're in AA together. Freddy boasts that he's been sober for over a year, but that doesn't mean all of his old problems are solved. Peggy complains that he's still old-fashioned, especially concerning his notions of what women want (he suggests an ad idea that if women don't use Pond's they'll "never get married"). I was cringing at Freddy's comments throughout the episode; however, he did win me over a little as he tried to help Peggy with some love advice. It was still archaic, but hey, at least it was coming from a well-meaning place. I was surprised to see him return, weren't you?
Peggy's not that kind of girl: Peggy is dating Mark—the same guy who she introduced as her "fiance" in last week's episode—but she has her reservations about their relationship. Mainly, she's convinced him that she's a virgin, and he's pressuring her to have sex. Peggy's reasons for holding out? She confides in Freddy that she doesn't want to be alone on New Year's (can you blame the girl when most of her past flings have flung after sleeping with her?). Despite Freddy's advice to wait if she wants to get married, she decides to go to bed with Mark anyway. But is it just me, or does Peggy seem not that into him?
Holiday humiliation: Lucky Strike guy Lee Garner Jr. is still acting smarmy, as he guilts Roger into inviting him to the office holiday party—a party that Sterling Cooper Draper Pryce was never supposed to have. Joan rounds up the troops to turn the event into a full-blown shindig to impress their biggest client; however, when Garner shows, he manages to humiliate everyone at the company, especially Roger, who Garner insists should dress like Santa. Merry Christmas, indeed.
What did you think of this week's episode?