Recap of Mad Men Episode "The Chrysanthemum and the Sword"
Mad Men's 5 Maddest Moments: "The Chrysanthemum and the Sword"
This week's Mad Men is titled "The Chrysanthemum and the Sword," but stop searching for any deep double meaning, because it will perhaps be better remembered as "the one where Sally Draper plays with herself." Yes, the show goes there in this episode—consider the envelope pushed. While Sally deals with growing pains (and an infuriated Betty), daddy Don is busy trying to secure a Japanese Honda account much to the distaste of WWII vet Roger.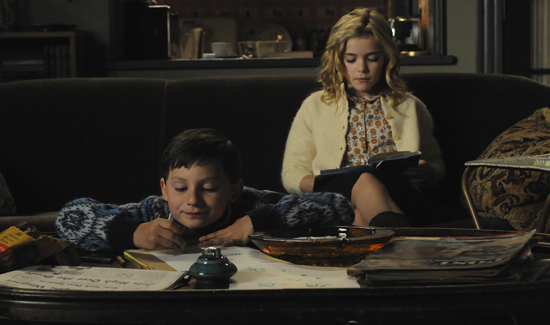 In terms of this season thus far, this may just be my favourite episode. Darker moments aside, the show lets itself have some fun with a cat-and-mouse type tease between Don and new rival, Ted Chaough, and the Japanese businessmen had me laughing with their overt reaction to Joan ("How does she not topple over?"). Let's recap the big moments of the night when you read more.
Keep reading . . .
Sad Sally: Sally Draper continues to flounder after the divorce fallout. Betty's already fed up with her daughter, but when Sally chops off her own hair, Betty goes all Mummy Dearest and slaps her. Maybe she just wanted her short 'do in order to look like Betty? Of course it doesn't help that it all takes place under the watch of Don who passes the kids off to his babysitter, AKA his cute neighbor/possible future conquest, Phoebe. Henry manages to calm Betty down, but later, Sally gets caught masturbating at a friend's house during a sleepover, prompting Betty and Henry enlist Sally in therapy. Too bad it's obvious that Betty's the one who needs to have her head examined.

Battle scars: Thanks to a chance meeting with a friend, Pete ropes in a possible account with Honda motorcycles that has the rest of the partners seeing dollar signs—all with the exception of Roger. He's still fuming from WWII, as he goes on a racist rant that manages to make everyone—including me—incredibly uncomfortable. The rest of the ad men proceed despite Roger's protests to work with the Japanese businessmen, but when Roger finds out, he offends their foreign guests and risks losing the account. Luckily, the agency manages to keep in the game, and Roger swallows his grudge.
Pete on the rise: Pete is finally proving his worth in more than brown-nosing. Not only does he have last week's Vicks victory under his belt, but he's also the reason for the Honda meeting—and Roger is feeling a little threatened by the "golden boy." Pete calls Roger out on his jealousy, lambasting the guy for only having one account (which of course gets Roger fighting mad). Is Sterling Cooper Draper Pryce Campbell on the horizon?
The art of war: With competitor Ted Chaough nipping at his heels for the Honda account, Don stoops to clever trickery to narrow the playing field. The Honda men ask for presentations from Don and Ted with one caveat: they can only use a budget of $3K. Don lets Ted and his associates hang themselves by pretending to do a fake commercial that costs way over the proposed cap. With Peggy and Joan, Don puts on an amusing show of circus-like proportions to pull off the fake stunt. When Ted gets wind of their ad spot, he chooses to up the ante by making a pricey one of his own. The time comes for the presentations with Honda, and Don enters the meeting to resign from the competition—he says he doesn't want to collaborate with men who break their own contest rules. The Japanese are charmed by Don's defiant move, and they tell the agency that they'll work with them on their future automobiles. Best of all, Don hurts Ted's business, and hopefully his ego.
The good doctor: Looks like we may see a future romance with Dr. Faye Miller and Don, or at least the writers appear to be positioning it that way. Even though Don takes out his Betty 2.0 lookalike (the friend of Jane's) from a few episodes ago, it's Faye who he turns to about his problems with his kids. The two chat in the office kitchen, and she reveals that she's actually not married—she just wears the ring to fend off overeager men. That means she's on the market, Don! Time to swoop in with those signature Draper moves.
What did you think of the episode? Do you agree that it's an improvement on the past ones from this season? Were you surprised to see the show address Sally's moment of self-discovery? Let me know your thoughts in the comments!