Recap of Mad Men Episode "Good News"
Mad Men's 5 Maddest Moments: Episode "The Good News"
Another Mad Men episode brings yet another holiday: it's New Year's Eve 1964, and Don Draper flies to Acapulco via a quick stop in LA to visit his ex-wife Anna. What happens there causes all-new drama, and let's just say, Don doesn't make it to his beach vacay.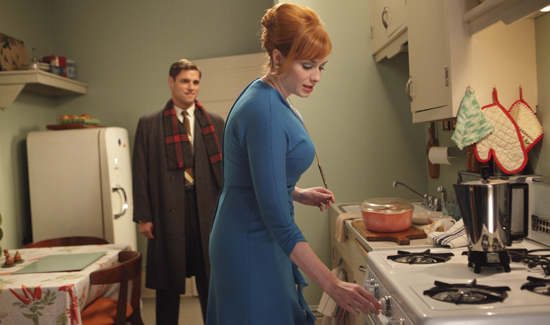 Things aren't rosy for Joan or Pryce either, but not everything is lost, because there is—as the episode promises—some "good news." To find out what it is, and for the rest of the big happenings of the night, read more.
Keep reading . . .
Making babies: Joan goes to see her doctor about the possibility of getting pregnant—especially after she's been through a couple of "procedures". But is Joanie just using a baby to mend things with her husband Greg? Or because she's worried about him dying in Vietnam? Both seem likely, as she's obviously concerned about his new job with the Army. Later in the kitchen, she slices her finger open (not quite as gruesome as the lawn mower incident, but still bloody!) and starts bawling. Greg takes out his kit to fix the wound, assuring her that while he can't fix everything, he can heal her finger. It was a somewhat sweet moment in their otherwise messed-up relationship.

The big "C": When Don—or should I say Dick Whitman—drops in on Anna, she has a foot cast which she writes off as a cooking injury; but come to find out, Anna is dying from bone cancer. Anna herself doesn't actually know about her condition, and Don discovers the truth only when her niece Stephanie tells him (after he hit on Stephanie, of course). She pleads with Don not to tell, and he ultimately decides to keep his mouth shut. He boards a plane back to New York, giving Anna a long hug goodbye . . . possibly for good.
A case of crossed wires: After Pryce snaps at Joan for asking for a day off, he tries to make amends with some roses. Too bad Pryce's secretary accidentally swapped out the card intended for Joan with the one for his wife! Joan storms into his office after reading the note calling her "sweetheart", while his wife got the message meant for Joan. Apparently Pryce and his wife have an argument over the matter, and because she also doesn't want to come to New York, they split. Looks like the office has yet another divorcé.
Boys' night out: To wallow in their mutual depressive states (Don because of Anna's cancer, and Pryce because of his impending divorce), the two men get soused and go out on the town for New Year's. They start off with a showing of Godzilla, followed by a steak dinner and comedy club. It's an unlikely man date that's actually charming to watch, but like all Don holidays (at least lately), the night ends with prostitutes. Don calls up his same lady from Thanksgiving, and she brings a friend for Pryce, so the four return to the apartment for a "night cap." A call girl only costs $25?! It'll be interesting to watch how Don's influence affects the usually reserved Pryce.
Money in the bank: Well, everyone's lives may be in shambles, but there is a silver lining. After crunching numbers, Pryce alerts Don that the company didn't close out 1964 as terribly as previously thought. And with that, we kick off 1965.
What did you think of this week's episode? Is this the last we'll see of Anna? I hope not, because their relationship is one of Don's last redeeming qualities! Let me know your thoughts in the comments.