Recap of Mad Men Episode "Hands and Knees"
Mad Men's 5 Maddest Moments: Episode "Hands and Knees"
Oh, how the tables quickly turn on this week's Mad Men. The episode starts off on a promising note for Don; he calls Sally with news of Beatles tickets, which sends her into a screaming fit of pure joy. Even Betty seems impressed with the show of father-daughter love. Then it all goes downhill, as surprise visitors make the ad man lose his cool (and that's putting it mildly). Who comes to his rescue? A reluctant Pete, who is furious about having to keep Don's secret . . . yet again.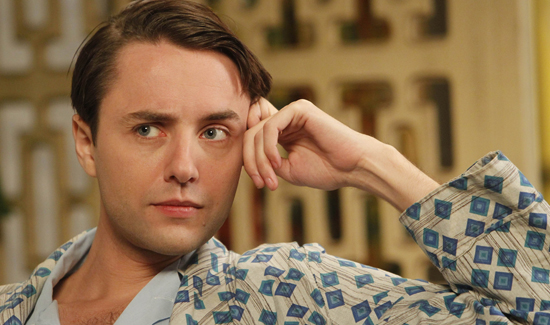 Don isn't the only one in trouble. Lane Pryce is in love with a new girl, but his father arrives on the scene to put a stop to all that. Joan has personal problems of her own, which quickly get swept under the rug. As for Roger, he's doing all he can to salvage his last shred of dignity at the agency. Let's recap the big events of the night when you keep reading.
.
Secrets no more: Don's past catches up with him yet again. Pete's client North American Aviation does a background security check on Don, sending two men from the Department of Defense to question Betty about Don's "loyalty" (I had to laugh at her reaction to the word!). Despite their past animosity, Betty keeps mum about Don's desertion and true identity, but that doesn't make Don any less panicked about the investigation. Later, when he and Faye head to his apartment, the appearance of two mysterious government types in the hallway turns him into a paranoid, feverish mess as he hyperventilates, tears off his shirt, and fears that he's having a heart attack. After a nap and some soothing from Faye, he finally reveals his story to her. She knows the truth now, and best of all, she's willing to help him. The woman's a keeper, Don.
Whipping boy: In order to keep Don's secret from the government, Pete has to take the fall with North American Aviation, a client worth $4 million that he's been working on for years. He's understandably ticked, but you know how much Pete loves to play the martyr, telling Trudy "it's honest people who have to pick up the pieces" (side note: Trudy's pink maternity nightie was kind of hilarious, no?). He goes to Don's apartment to discuss the dilemma — where he happens to see Faye, oops! — and Don asks him to drop the account. Pete breaks the news at the partners' meeting, where Roger lays into him with a bleeped-out expletive. Racy stuff. But Roger is angrier than usual because of his own recent failures. For more on those, keep on reading.

Not-so-Lucky Strike: During a smoke-filled meeting, Lee Garner Jr. breaks the news to Roger that Lucky Strike is dropping Sterling Cooper Draper Pryce. Roger is irate about losing the account after 30 years of business and asks Garner for a 30-day grace period so he can buy himself some time to find new accounts. Let's face it: without Lucky Strike, Roger is essentially worthless to the agency in terms of monetary contribution. But hey, now that Garner is out of the picture, can Sal come back, please?
An unwanted surprise: The quickie between Joan and Roger has more permanent effects, as she tells him she's late. He makes a few remarks about how he'll take care of it, but she insists on going to get the abortion by herself. A train ride later, she's in a doctor's waiting room as the young mother of a 17-year-old girl cries about her daughter's own "operation." She asks Joan how old her own daughter is, to which Joan replies, "15" (perhaps Joan is referring to her first abortion and the child she never had). Joan deals with this latest procedure so quickly and coolly that it makes me wonder if she actually terminated the pregnancy.
Father knows best: When his father comes to visit, Pryce takes him and Don to a Playboy gentleman's club. There, we get to meet Toni, Pryce's new — as he calls her — "chocolate bunny." But when he suggests that daddy dearest and his new love go out for dinner just the three of them, his old man smacks him on the side of his head with his cane (I did not see that coming). He scolds his son to get his life in order and fly back to London, while Pryce quivers on the floor like a child. He announces to his partners that he's taking an absence to fly overseas, but that's all good, because the company is stable financially, right? Oh, if he only knew about Roger's little secret! Looks like Sterling Cooper Draper Pryce may be in a pickle once the finale hits in a few weeks.
What did you think of this week's episode? Did your mouth drop at Pryce's cane-smacking? Why did Don eye Megan in the show's final moments — will he ditch Faye for a fling? Let me know your thoughts in comments!