Recap of Mad Men Episode "The Rejected"
Mad Men's 5 Maddest Moments: Episode "The Rejected"
This week's Mad Men is all about Pete and Peggy, and they couldn't be in two more opposite places. As office golden boy Pete continues to make good, he's shaking hands with grey-haired clients and cementing his place as a partner and as a husband. Peggy, on the other hand, is making nice with liberal young voices of the '60s art scene.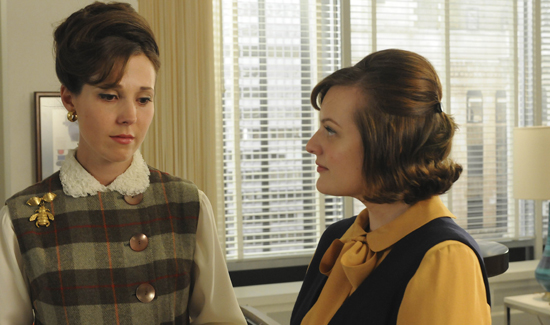 Meanwhile, Don deals with the woman he "rejected": his secretary, Allison. Needless to say, there are a few tears in this episode, so let's get down to it when you read on.
Keep reading . . .
In with the "in" crowd: Peggy gets an invite to an underground party from a young woman named Joyce who works at Life magazine, and she soon finds herself with new progressive friends. Joyce makes a pass at Peggy, which she rejects, using the excuse that she has a boyfriend—but that doesn't stop her from kissing Joyce's friend Abe in a closet! When police raid the party, Peggy hides with the guy until the coast is clear, but something tells me this is only one of a few brushes with the law to come for Peggy if she continues to keep the same company.

Proud papa: Trudy is pregnant! After her desperate tries for a baby, she finally has a bun in the oven, and Pete couldn't be happier. His father-in-law Tom accidentally leaks the info, and soon Pete is spreading the news. One person, however, is less than thrilled: Peggy. She gives Pete her congrats, but there is a definite sadness over her own baby with Pete, and the two share a knowing glance.
Old, familiar friend: Ken Cosgrove is back! Well, for a small cameo. Harry tells Pete that their former associate is getting married to the daughter of the bigwig at Corning, and he invites Pete to join them for lunch to celebrate and talk shop. Ken is now at another agency working on the Mountain Dew account, and he tells Pete that he's jealous of him for sticking with Draper. It's a friendly conversation—albeit, full of fake niceness. Is this the last we'll see of Ken? Probably not.
Heartbreak warfare: Don's fling with his secretary Allison comes back to bite him. When she's called into a focus group for Pond's along with the rest of the office 20-somethings, the topic turns to boyfriends and breakups—and Allison bursts into tears (while Don sees everything behind the glass). Later in Don's office, Allison shuts the door, telling him that she's leaving due to their situation. She asks for a letter of recommendation, but when Don suggests that she just write one up for him to sign, she throws a heavy desk tchotchke at his head and storms out. Don briefly contemplates writing Allison a letter explaining how messed up his life is, but it ends up in the trash can.
Keeping it in the family: Pete continues to use his father-in-law, Tom, for favours. When the other partners order Pete to close out the Clearasil account, Pete decides to bargain with Tom to get even more clients out of him. The result: a $6 million Vicks account. Pete is a smarmy guy, but he's certainly smart.
What did you think of the episode? Are you sad to see Allison go? Excited to watch Pete as a new dad? Let me know your thoughts in the comments!