Recap and Review of Glee Episode "Mattress"
Glee-ful Highlights From Episode, "Mattress"
This week our beloved Glee club members encourage each other to smile, smile, smile — but there's more angst than laughs in the episode. The kids do their best to avoid having their photo defaced in the yearbook (though they ultimately fail), Sue tries once again to take down the club, but the biggest moment of all belongs to Mr. Shue when he finally discovers that Terri's pregnancy is a farce.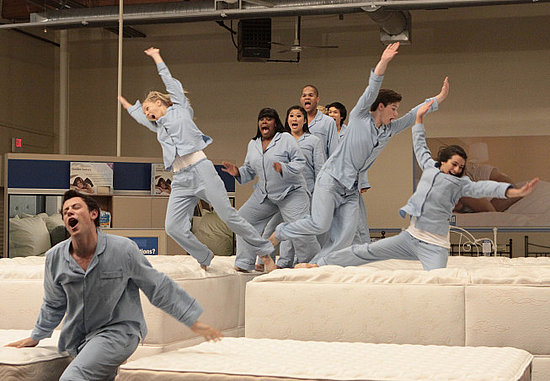 There's lots more to discuss with only one new episode to go (!!!), so to get into it, just
Keep reading . . .
Mr. Shue struggles in many of his relationships this week; he's upset when Emma tells him that she has to skip sectionals for her own wedding, and he has spats with Principal Figgins and Sue when glee is denied a yearbook photo. But, of course, the crux of the episode is his fight with Terri. In arguably the most emotional scene of the show since Quinn's confrontation with her parents, a teary-eyed Will faces Terri head-on after he finds her pregnancy pad. It's kinda hard to believe that weeks and weeks of build up could unravel so quickly. Even after so many episodes of hating Terri's guts, it's hard not to feel bad for her when she's fighting with Will in the kitchen. The icing on the cake is that Will inadvertently brings down the glee club when he sleeps on one of their free mattresses, thus making them eligible for disqualification from sectionals. Poor Mr. Shue really can't catch a break.
There aren't many performances this time around (I found myself wishing we could hear a cover of "You Might Think" in the scene where Rachel is trying to recruit a co-captain), but the mattress scene is so classic. I couldn't help snickering at Rachel and Finn's overjoyed faces as they jump from mattress to mattress. The kids probably weren't even faking — who wouldn't want to bounce around in pjs?
The glee club gets closer than ever this week, leading up to the final moment when they put on their happy faces and take their yearbook photo. Even without their fearless leader (and packing the knowledge that they'll be chastised by their peers), the gang still musters up the courage to "Smile, though your heart is breaking." Side note: who knew Quinn had it in her to finally stand up to Sue and defend the glee club? She still has her bratty moments, but her character has definitely grown up a lot in these episodes.
So, how'd you feel about all the drama? Are you glad the cat's finally out of the bag? What are your hopes and predictions for the finale? I'd love to see something finally happen with Emma and Mr. Shue, but I can't really let myself believe that Terri's out of the picture for good.