Recap and Review of Gossip Girl Episode "The Lost Boy"
Top WTF Moments From Gossip Girl Episode "The Lost Boy"
Are we back on the horse now? After a couple of OK episodes of Gossip Girl, this week's "The Lost Boy" really felt like the show I know and love. Everyone's playing everyone else, everyone's lying to everyone else, mysteries solve and then re-form . . . yes, it was quite the return to form.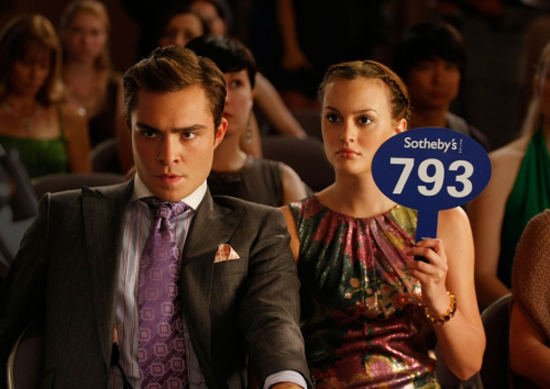 I have my favorite parts so to see them (spoilers ahead!), just
Keep reading . . .
Don't come a knockin' if the sock's a rockin': Blair walks in on Dan and Georgina! So it was spoiled in last week's promo, but all the same, I was still shocked, shocked, when Blair walks in — after gingerly removing the sock on the door with a glove. To make matters worse for Dan, he's also caught by Serena and then Vanessa. I love how Vanessa hopes he hooked up with Georgina and not Blair, and Serena hopes he hooked up with Blair and not Georgina. Really, S? You're so full of surprises.
There is no Scott Adler: Turns out, Rufus and Scott have been hanging out (and in matching striped shirts, no less), which made me want to warn Rufus to ensure his fingernail clippings were still in the trash. Right when things are getting totally creepy, the scorned female admin at NYU informs Vanessa there IS NO Scott Adler. Dun dun dun! But then Scott ends up being sort of normal by confessing his whole story to V.
The big reveal that isn't: I don't know if it's understandable or still kind of weird that Scott lies and says he's the brother of Rufus and Lily's son that died. In the understandable column: his mom would be heartbroken. In the weird column: what kind of mom wants her son to tell a ginormous lie?! Plus he's going to look like a crazy person again when the truth inevitably comes out. So understandable = 1, weird = 2.
Still crazy after all these years: Well, even though Scott's not a stalker, turns out Georgina is still a whack job. She plays Blair and Chuck against each other with a little ploy, which is not really a crazy person thing to do, just devious, but then we see something no girl should be caught with: a huge picture of her and Dan on her computer desktop! After like, two days. Oh, Georgina, no.
Serena, back in action: The old girl pulled out of her dense party-girl fog to discover Georgina's Patrick McMullan scheme, then tells Dan about her evil ways, which felt more mean girl than good Samaritan. I may have cackled a little when Serena says that Georgina had already left the Sotheby's auction, and she comes out in time to see the Humphrey limo (yes, the Humphrey limo) jet off and ditch her. When she has something to do besides whine, Serena gets back into my good graces. I'm even kind of cheering on her relationship with Carter. But tell me: must he always dress like American Psycho's Patrick Bateman?
Bree, no longer boring?: The final twist is that Carter has done something to wrong Bree's family. You know Bree: Joanna Garcia, who's been largely wasted in her guest role as Nate's girltoy. Maybe this family drama will give her a juicy storyline on the show, finally. OK, it didn't sound that juicy, but the rest of the episode was so exciting, it spilled over to this final moment!
So what did you think of The Lost Boy? How do you think the Scott secret will come out? Frankly, I hope it's soon, because what fallout can it even have now? Dan and Serena are broken up and Rufus and Lily are together. Let's wrap it up!