Recap and Review of Grey's Anatomy Season 6 Episode 4, Invasion
Grey's Anatomy Rundown, "Invasion"
Seattle Grace has been invaded and this time it's with new doctors in addition to fresh patients and injuries. It doesn't take very long for the surgeons to butt heads with the Mercy West newbies—in fact, Izzie is ready to throw down after one of the doctors takes George's locker in the locker room. Eventually, Izzie is the only one who warms up to the Mercy Westers, only to get burned first by a new friend and then by the chief.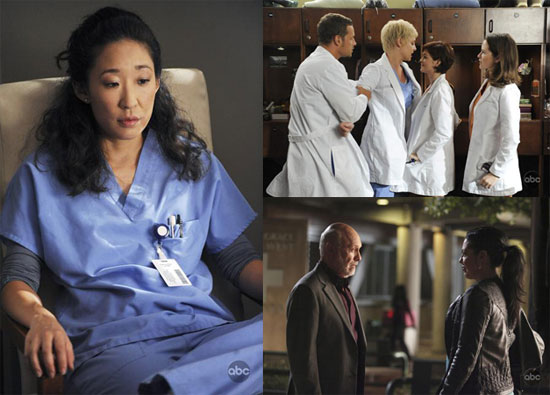 Ready to talk about all of the latest drama from Grey's Anatomy?
Keep reading
The docs are on the defensive from the minute they are "invaded" by Mercy West. New guy Jackson (aka hot guy from The Sisterhood of the Traveling Pants 2) immediately gets on Owen's good side by suggesting a new method of appointing patients. Throughout the episode, Jackson proves to be the most likable of the new doctors, which makes Cristina hate him even more.
For the second week in a row, Cristina has beef with Owen because he doesn't play favourites. Her self-assurance continues to plummet and by the end of the episode she has a breakdown in Meredith's hospital room about how much she misses heart surgeries. It was interesting that she mentions Burke after all these seasons of silence (though at this point it feels like he's been gone forever), and I loved that she jumps right into Mere's bed even though they are both in a "dark and twisty" place.
Callie's father returns, though it's not exactly the joyful reunion she's been hoping for. He brings a priest along for the trip, prompting Callie to protest that you can't "pray away the gay." Later they square off again, citing religious quotes, but ultimately he begins to accept his daughter for who she is. This is a major breakthrough for Callie's relationship with Arizona, as she's the one who gets through to Callie's dad, even admitting that she loves Callie. Aww.
Lexie tries to be welcoming to the new doc she's working with, though it doesn't take long for her to see that the newbie is one-upping her photographic memory. Prompted by the patient she's working with (who happens to be a thief), Lexie turns the tables and uses the newbie's diary to get the upper hand. In true Lexie fashion, she feels bad in the end and apologises. Am I the only one who thinks the new doctor is kind of like Lexie 2.0? Their dynamic reminded me of when Lexie first started and tries really hard to make nice with Mere, but gets the cold shoulder in return. Perhaps Lexie and Meredith are growing more alike as they get to know each other.
The most dramatic moments of the night are wrapped up in Izzie. Though wary at first, Izzie quickly bonds with and embraces her new friend Charles—until she overhears him referring to her as his "own surgical bitch." (Ouch). It obviously gets to her and Izzie lets her emotions get in the way of her work, nearly killing a patient waiting for a transplant. It's clear that the other doctors aren't willing to give her a free pass because she's a cancer survivor; Bailey hands her a heavy reprimand and ultimately the Chief lets her go.
Alex continues to try to defend Izzie to the chief, though this week his pleas are starting to sound desperate. He gets so fiercely competitive with newbie Reid that a patient's family member is forced to step in. At the end of his stressful day, he gets the biggest bomb of all—Izzie breaks the news that she's leaving him a note. We all knew the firing was coming, but I didn't think her relationship with Alex would end so quickly. He has a rare emotional moment breaking the news to Mere and Cristina, and even they don't know how to comfort the usually cocky Karev. (Gotta love the moment of comic relief when Meredith is trying to prompt Cristina to give him a hug).
Now that Izzie's gone, what do you think will happen when she gets back? Is it really over for her and Karev? Did you like seeing the fresh meat at Seattle Grace or were you just as irritated as the doctors? For more on everything Grey's, check out our past recaps!