Recap and Review of House Season 6 Episode 1, Broken
House Season 6 Premiere Rundown: "Broken"
After an entire months without House, you can believe I was ready for last night's two-hour premiere. With House checked in to an asylum, season six was always going to take us into new territory and, from the opening scenes, the producers let us know that this was not your typical episode.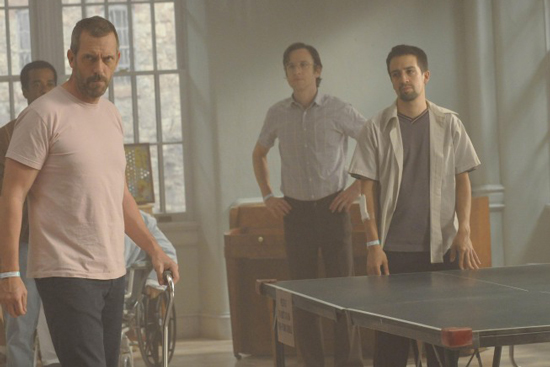 If the removal of Massive Attack's opening music, replaced with Radiohead's "No Surprises" wasn't enough to tip you off, then maybe the washed-out, dream-like detox scene was. Did you watch and are you ready to discuss? Here are some of the things I'm dying to talk about (spoilers ahead!).
Keep reading
Where was the medical mystery? I have to admit, while I loved this episode, I kept waiting for the medical mystery. Every time Annie (the catatonic cello player) was on screen, I would think, "Oh he's going to solve this, surely she must have some rare disease." Then after superhero Steve becomes catatonic, I figured the same thing. And when neither of those panned out, I thought it would be Dr. Nolan's father who would be saved. However once the clock started ticking down, it dawned on me. This is the episode where the person who gets saved is House.
What did you think of the dynamic between House and Nolan? I think Andre Braugher is the perfect foil to House. Their dynamic seems so real. I love that he essentially blackmails House into getting better and thwarts his attempts to trick Wilson.
Speaking of Wilson, did you notice that he was the only other cast member to appear? Did you miss the rest of the cast, or were you fine with the new faces? Do you think any of these faces will show up again? I think it would be a treat if Alvie turned up at Princeton Plainsboro with a rap for our favourite diagnostic team.
While the tone of the episode was admittedly dark, two of my favourite moments had to be when House and superhero Steve were flying at the carnival, and when House joined Alvie on stage for the talent show. I don't think we've ever seen House smiling unless it's to cause the frustration of someone else. How about you, what was your favourite scene?
How important do you think House's relationship with Lydia (Franka Potente) is? Do you think House would have been "cured" had she not been there?
Now for another somber moment. Were you also tricked into thinking superhero Steve actually died? I was glad to hear that he's still alive. I don't think House (or myself) could've handled yet another death on the show.
There were a lot of great quotes during the evening. However, my favourite line of the night was when Alvie told House that they broke him and House replied with, "They didn't break me—I am broken." What was your favourite line?
Do you think House has really been cured? Or do you think he'll be back to his old tricks and Vicodin pill-popping ways by next week's episode?
Really, there was so much to this week's episode. In fact, it felt like House the Motion Picture, and I think it did a great job in covering the gap between last season and this one. I have no idea where the writers are taking us, but if the rest of the season is as good as last night's premiere, we're in for a treat!