Recap and Review of Lost Episode "Lighthouse"
Let's Get Lost: "Lighthouse" Recap
Where to even begin? Lost was so chock-full of surprises and little clues, I think the biggest question might be how they managed to squeeze it all into an hour-long show. This week, we switch focus from Locke to Sawyer, as we go back to the temple where Hurley and Jack are still camped out. Oh yeah, and Hurley is still seeing Jacob.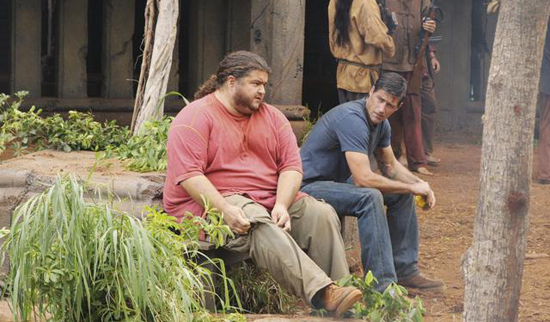 Jacob actually gets a nice dose of screen time this episode, along with another familiar face: jungle Claire. Finally, we discover what she's been doing for the past three years—and just who she's been talking to. But one of the biggest shockers of the night actually happens on the mainland. I don't want to give too much away, so let's dive right in (needless to say, there are spoilers!).
Keep reading
Jack had his appendix removed when he was a kid?! At least, that's what his mother says back on the mainland, but he appears to have no recollection of it. If you recall, his appendix previously required emergency surgery on the island, so does that mean that Jack's history had to change in order to exist with the events that took place on the island?
Huge spoiler: Jack has a son! In this new reality of his, he's father to a boy named David who is quite the piano whiz. Jack has trouble connecting with him (paralleling his relationship with his own father), but shows up to David's tryouts for a conservatory. So is Sarah David's mother? Would seem like the obvious answer, though we never get a glimpse of her. If you want to dig even deeper, the sheet music that David has on his desk is "Fantaisie Impromptu in C-Sharp Minor" by Chopin—which Daniel also plays as a boy and in 2007 in the episode "The Variable."
Did you notice that David is reading The Annotated Alice? The Lost writers love to incorporate Alice in Wonderland references in the show via episode titles (e.g. "White Rabbit" and "Through the Looking Glass"), but Jack also reads Alice in Wonderland to Aaron as a baby. This time, Jack mentions two characters from Through the Looking Glass, Kitty and Snowdrop. In the story, Kitty is Alice's black cat, Snowdrop is white—and they're supposedly versions of the Red and White Queens. Yet another good versus evil parallel for us to dissect.
Back on island time, Jacob instructs Hurley to bring a new person to the island by going into a secret temple tunnel—but only if he takes Jack with him (side note: I'm dying to know what the hieroglyph on the door means!). Jacob tells Hurley to convince Jack by saying "You have what it takes," and Jack is stupefied by this magic phrase, since his father always told him that he didn't "have what it takes." Dun, dun, dun!
If an animal skeleton in a crib isn't proof enough, Claire is not exactly Claire anymore. She saves Jin from her metal claw trap, but takes one of the Others as a hostage, later killing him because she thinks the Others have Aaron—even though Jin tells her Kate's been taking care of him. Jin later backpedals, saying the Others do have Aaron, after all. Good thing, too, because Claire was ready to kill Kate.
When Claire is explaining to Jin what she's been doing the past three years, she mentions spending time with her father and a "friend." Who is the mystery man? Smokey Locke. You know what that means: bad things are about to go down at that temple.
Dogen, the mysterious "Samurai" guy as Hurley calls him, is on the mainland in a parallel world, too! He pops up at the piano tryouts for Jack's son as the parent of another child.
The lighthouse! As Jack says, "How have we never seen it before?" Per Jacob, Hurley leads Jack to the tower where there's a set of mirrors. Hurley is supposed to turn them to a certain degree, but as we get a close-up we see that each degree has a corresponding name. Ah, so the numbers are degrees! Jack notices too, turning the lamp toward his, where he gets a glimpse of his childhood house in the mirror. Enraged, he smashes the glass. I was yelling at my TV over Jack's stupidity, but Jacob assures Hurley that it's part of his plan. Sure, but who the heck is Wallace—the name at 108 degrees that the lamp was supposed to be pointed to?!
Whew, I'm exhausted from trying to wrap my head around all of that, but I'd love to hear your theories. Did you catch anything that I missed? Please share in the comments below!