Recap and Review of Vampire Diaries Episode "Children of the Damned"
The Vampire Diaries "Children of the Damned": The Good, The Bad and The Bloody
This week's flashback episode of The Vampire Diaries filled in a lot of blanks. I love the jump from the modern-day mystery to the 1800s ancestral stories, but even more, I love how layered the story is.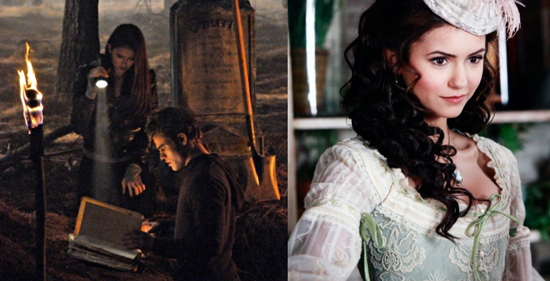 I'm ready to talk about everything that went down, so let's tackle the good, the bad, and the bloody.
.
Keep reading . . .
The Good
Katherine is so bad, she's great. Nina Dobrev has said she has a lot of fun getting to play Katherine and it's obvious why—she gets to step out of Elena's goody two shoes and be pure, sexy evil. I enjoy seeing her as Katherine too, especially when she's all up on Damon—it's like an antidote to all that sexual tension between Elena and Damon. Speaking of, isn't it great to see Damon as a meek human, so unsure of himself and a little frightened?
Way to interweave a new character into the show and have her seamlessly be part of the action from the beginning. One of the big surprises is that vampire Anna is Pearl's daughter from the 1800s. Damon recognises her immediately, tracking her to her hotel room and discovering that she has the journal with the whereabouts of the Grim-whatever (we'll just call it Emily's spellbook). She tells him she's been watching everything go down from afar since the comet appeared. Another reveal this episode? She's the one who turned Logan.
Loved the guest stars this episode! Kelly Hu's Pearl gives us another vampire of the many trapped in the tomb and James Remar is perfect as Giuseppe Salvatore, Stefan and Damon's father. I hope we see him again—and we know we'll see Pearl soon enough.
Lots of Damon/Elena interactions this week, but it was more than just combative flirting. She showed him compassion, telling Stefan she thinks everything he's done, he's done for love. In one of my favorite scenes, he gets close to ask if he could trust Stefan and assures her he's not compelling her. When he finds Elena and Stefan at Giuseppe's exhumed grave and sees that she was lying, he seems truly disappointed.
Damon is at family night now? Can I get an invite? He gives Jeremy quality advice: "Hot trumps weird."
That confrontation between Stefan and Alaric is pretty intense. Alaric reveals he knows that Stefan and Damon are vampires and that Damon killed Isobel. Rad tidbit: Isobel was a parapsychologist studying paranormal activity. And finally, Alaric reveals that Isobel was killed but her body . . . dun dun dun . . . was never found. Is she a vampire somewhere?
The Bad
There's a timeline question that bothered me a lot: Stefan and Damon both seemed to still be human at the time Katherine is carted off to the church to be sealed in. We know that she is the one who turned both brothers, so when did she do it? Stefan had ingested vervain, exposing Katherine and Jonathan Gilbert's compass didn't point to Stefan or Damon. Is this a goof or did I miss something?
The Bloody
Katherine demanding a bloody make out from Damon was a little much for me. Wipe your face, honey.
How creepy are those Hannibal Lecter masks the old townspeople slap on Katherine and Pearl?
Bonnie sees Ben's veiny vampire face when their date goes sour. Surprise—their kiss reveals that he's not human. He senses she knows and attacks her, taking her somewhere. She's not the only abductee; where has Anna taken Elena?
I can't wait to hear what you thought of this episode, as well as your various theories. Do you think Isobel is a vampire, waiting to surface? Could she be some other kind of being, descended from vampires?