Recap and Review of The Vampire Diaries Episode "Fool Me Once"
The Vampire Diaries "Fool Me Once": The Good, The Bad and The Bloody
It's tomb raider week on The Vampire Diaries as we finally set foot inside—while some step out—of the storied tomb.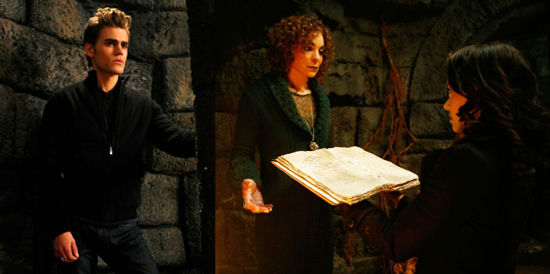 The show was intense, as usual, and I'm dying to discuss it, but since everything's a spoiler, keep reading and then chat with me!
.
The Good
I liked that everyone is on the same page in this episode. This week is all about the tomb—everyone either wants in or is somehow involved in getting in. Anna and Ben are holding Bonnie and Elena in a motel room to get in on the action—Elena's leverage and Bonnie is needed for her witchery. Damon's M.O. has been all about the tomb for the past few episodes, Stefan is trying to keep Elena safe, Grams has to help Bonnie with the spell and finally, a freezing-looking party in the woods means Jeremy is nearby too.
Damon and Elena have some amazing moments this week. When he's still angry with her, he coldly tells Stefan that he hopes Elena dies at the hands of Anna and Ben. You know what they say about a vampire scorned . . . anyway, Elena tries to make good with him in order to get the spellbook and even though she goes because she's trying to manipulate him, they both get vulnerable. "You and I, we have something," she tells him. Yeah they do. Wanting him to trust her, she removes the necklace. How sexy is Damon re-fastening it on her? I had chills. More chills came when he tells her that he never compelled her on their road trip because he "wanted it to be real." The hug they share later when Damon doesn't find Katherine in the tomb is a comforting one—not sexy, but another thing that's real between them.
It's always awesome when Grams is around, especially when she's literally giving Damon a headache. Just for giving her attitude! Love it. The sassy grandmother is necessary to help with the spell and even tries to trick Damon; she never unseals the tomb, she just opens the door and makes it so vampires can't come out. Sadly, it demands too much of her and she passes away later that night. I was devastated at this turn, since I love Jasmine Guy's character and wonder what this means for Bonnie. How will she learn to be a better witch?
Twist! Katherine is not inside the tomb! I honestly did not see that coming, but it's a juicy development. Pearl, newly freed by her daughter Anna, tells Damon that Katherine charmed her way out of the tomb, seducing a guard. Pouring salt directly into his wounds, Anna admits she saw Katherine in Chicago in 1983 and knew where Damon was but simply didn't care. Damon's evil, but his heart is breaking; what's he going to do now that his hundred-plus-years quest to find the woman he loves was all a waste? My guess is that this demoralised Damon will continue to hunt Katherine—but this time, with bitter malice.
Is it wrong that I don't hate Anna so much? She just wants her mum back and doesn't kill Jeremy even though she could. I also kind of want her—and Pearl—to stick around.
The Bad
Look alive, Bonnie and Elena—before Stefan throws the curtains in the motel open to save the girls, I was exasperated that they hadn't thought of that themselves first. Even if one of them weren't a witch, I'd think these two could think of some way to escape Ben. Just once I'd like to see a girl on this show, namely Elena, rescue herself.
Jeremy

Googles

Bings vampires . . . because? I know he had been doing research into Mystic Falls's monstrous history, but it kind of comes out of left field. I don't know what I'm more perplexed by—the blatant product placement or the lack of reasoning for Jeremy to be researching with a headache.
The Bloody
My skin crawled the whole time Elena is inside the tomb. All those gray, dessicated faces and bloodshot eyes! Eek. That's not even as bad as it gets for her inside; Anna uses Elena's wrist as a snack for her mum to come back to life.
I knew nothing good would come of the blood bag Damon smashes on the wall of the tomb when he can't find Katherine! One vampire gets a taste and the strength to leave. Look forward to some animal attacks in the near future, Mystic Falls.
I'm pretty satisfied with this episode. We finally have an ongoing storyline wrapped up and the cliffhanger isn't as torturous as it could have been. What did you think of the episode? And what do you think Katherine has been up to—and how soon we'll see her? Tell me your thoughts below!