Recap and Review of Vampire Diaries Episode "Unpleasantville"
The Vampire Diaries "Unpleasantville": The Good, The Bad and The Bloody
The Vampire Diaries hit us with its second episode since it came back from a break and I'm just as impressed with "Unpleasantville" as I was with last week's "Bloodlines."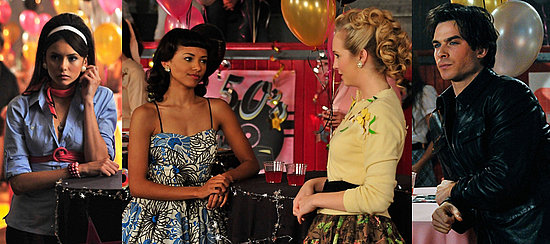 The episode revolved around a '50s-themed dance, but the real excitement happens in the canteen, the Gilbert household and out on the streets of Mystic Falls. I'm champing at the bit to talk about this week's episodes and all the gory details, so to break it down (spoilers ahead!), just
.
The Good
My spine tingles each time someone gets invited in and the pizza guy—AKA hooded vampire creep Elena hit with her car—finds a new creative way to get inside the Gilbert house. I'm glad that Noah wasn't a one-off villain either; he's just the tip off that there's a new vampire gang in town and they're not as sweet as Stefan. Which leads me to . . .
Anna's a vampire! And hot bartender/former football star Ben (Sean Faris) is too! I was kind of expecting Ben to be somehow shady, but I'd just thought Anna was creepy, maybe annoyingly into Jeremy, but I so did not suspect that she was also a vampire. Like Damon, she has a plan to get into the tomb where Katherine is as well—but what's her motivation? The race is on for the coveted journal of Jonathan Gilbert, which is now in the hands of Alaric Saltzman.
Elena's adoption plot thickens and the new detail's a doozy: her birth mother's name is Isobel—which is also the name of Alaric's late wife. I figured it out when Jenna first reveals her name to Elena (how many Isobels can one show have?), but it's Jenna herself who connects the dots when Alaric mentions his wife's name while asking Jenna out on a date. That's going to make for some awkward dinner convo.
So Matt and Caroline's story doesn't add much to the overall interwoven mystery of the show, but I admit it, I like them now. Plus, their cute, blossoming relationship is a welcome diversion from all that tomb talk.
Um, I watched that sweet '50s dance move that Stefan busted on Elena at the dance at least three times.
The Bad
I'm kind of annoyed with Stefan and his handling of the whole Damon/Katherine/tomb situation. What's the point of lying to Damon about helping? Either help or don't help—we all know Damon's getting into that tomb. I just hate how Stefan acts so self-righteous about everything.
The Bloody
I was so psyched when Elena gets all Buffy on Noah in the canteen—well, almost. She still wields that makeshift wooden stake like a champ, breaking a broom handle over her knee. At least she did get in some good pencil stabs. Not terribly effective, but a defense move just the same. I somehow doubt that this is the last time we'll see her playing slayer.
Vampire torture by broom handle! Ouch. Stefan and Damon get all the details out of Noah they could by jabbing him and learn what's needed to open the tomb: a belonging of Emily's, the whereabouts of which is in Jonathan Gilbert's journal.
This is another fantastic, layered episode—as usual, with as many questions that were answered, we got as many new questions that we hope to see answered next week. Among them: when will Damon and Alaric face off? Who will get to Jonathan Gilbert's journal first? Is Jenna going to look into Isobel being Elena's mother? And speaking of Isobel, since she's likely related to Katherine's family, I'm doubting that Damon's attack on her was random. Let me know your thoughts about the episode in comments!