Recap of The Vampire Diaries Episode "Memory Lane"
The Vampire Diaries "Memory Lane": The Good, the Bad and the Bloody
As if the title didn't tip you off already, this week's The Vampire Diaries is all about digging up the past. Katherine gives us a closer peek at her back-story (and that of Mystic Falls) and her romance with Stefan—but could it be the two still have some rekindling to do? There are definitely old feelings left to explore, even if most are fueled by hatred. During the hour, they try to stick each other with a stake at least once.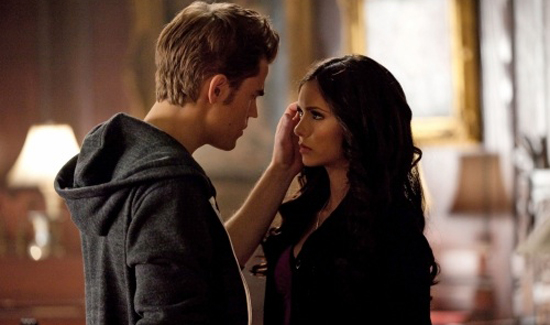 Between all of the flashbacks, sexual tension, and one tricky twist I didn't see coming, it's an incredibly satisfying episode. Let's get to it when you read more.
Keep reading . . .
The Good
The episode kicks off with Stefan's dream—or rather, nightmare—as he imagines Katherine back in 1864, before evolving into present day as he watches Damon and Elena kiss over a game of pool. Stefan wakes up in a panic, only to be further alarmed: Katherine is in bed with him! She uses her powers to get inside his head and terrify him. As for me, I actually liked the glimpse of Dalena, even if it is fantasy.
Flashbacks! As Katherine and Stefan get to it with the usual cutting remarks, Katherine reveals what went down the night of the 1864 Founder's Ball. What we learn: not only was George Lockwood a werewolf, but Katherine struck a deal with him to capture her vampire buddies in return for saving her own hide. Stefan also told Katherine that he loved her that same evening—and she didn't even have to compel him. Looks like their relationship goes deeper than I thought (watching his old self gush over her is kind of adorable). Perhaps Katherine did come back for him after all? Well, not so fast. She has a secret, and she's not telling. One thing we do find out, though—she did genuinely love him.
A rivalry between Mason and Damon fires up, as Damon revels in teasing him with a Dancing With Wolves reference and endless puns over a game of Pictionary with Jenna and Alaric. Damon tries to out him with silverware, a common—though it turns out, futile—werewolf deterrent. Once outside, Damon stabs Mason with a silver knife, and it essentially does nothing, except tick off the handsome Lockwood. "Now, you made an enemy," he warns Damon. Oooooooo.
Revealing werewolf fact: Mason tells Tyler that you receive the family curse when you kill someone. Um, so the Lockwoods are murderers too?
Katherine has a new lackey in Caroline. At Katherine's

threat

request, Caroline tries to keep Elena away from Stefan while his ex spends time with him. Then to make sure Katherine's happy, she goes on a negative tirade to her BFF, telling Elena that her relationship is doomed. Nope, it's not the Matt fallout that's getting to the girl; it's Katherine. When she's still not satisfied, she warns Caroline: "I killed you once; I can do it again." But Elena and Stefan are already one step ahead. They have a fight in front of Caroline at Mystic Grill to convince Katherine and everyone else that they're split (even I was momentarily convinced!). Damon overhears, too, which could well complicate their plan. Now that he thinks Elena's free, will he make another move?
In one of the big moments we've been waiting for, Katherine and Elena come face to face. Elena remains relatively composed, but I kept thinking back on Vanessa's comments last week about how the living torment their dopplegangers. It seems strange that Katherine would rely on Caroline to do her dirty work when she could, in theory, just snap Elena's neck. Plus, I was intrigued by her comment that Elena is "asking the wrong questions." What are the right questions?!
While we're talking questions, what's the deal with the Lockwood moonstone? Tyler has it, Mason wants it, and judging by the flashbacks, Katherine may be in Mystic Falls to get it back. What special powers does it hold? I'm dying to find out.
The Bad
I know it's the 1800s, but do we really need the antiquated, romance-novelish dialogue? I nearly snorted when past Stefan tells Katherine, "I touch your skin and my entire body ignites." Same goes for the hazy flashback camera effects.
The runner-up for cheesiest moment: Katherine touching her lips at the memory of kissing Stefan in the past.
The Bloody
What blood? This episode was surprisingly devoid of gore (save for one useless werewolf-stabbing), though with Katherine still around (and a Damon-Mason fight brewing), I'm sure there's bloodshed to come. It looks like a full moon is on its way too!
What did you think of this episode? Too much flashback? Not enough blood? Or did you eat up every minute of it? Share your thoughts in the comments!