Recap of Winners and Lots of Pictures From the 2011 Emmy Awards Show
Modern Family, Mad Men and More Win Big at the Emmys
Jane Lynch kicked off today's Emmy Awards with a song and dance routine that included cameos from some of TV's most popular stars. Early supporting honours in a comedy went to small screen couple Modern Family's Julie Bowen and Ty Burrell, who actually beat out three of his male co-stars! Ty then made a memorable acceptance speech about his late father. Charlie Sheen made a controversial appearance to present outstanding lead actor in a comedy series with some of his old competitors. While some were worried about what he'd say in relation to his departure from Two and a Half Men, Charlie was polite and respectful. He said, "From the bottom of my heart, I wish you nothing but the best for this upcoming season. We spent eight wonderful years together, and I know you will continue to make great television." Jim Parsons from The Big Bang Theory ended up the winner, while Mike and Molly's Melissa McCarthy won in the corresponding female category. Her rivals like Amy Poehler and Tina Fey all gathered together onstage before the victor was announced, and it was a sweet moment of support among peers.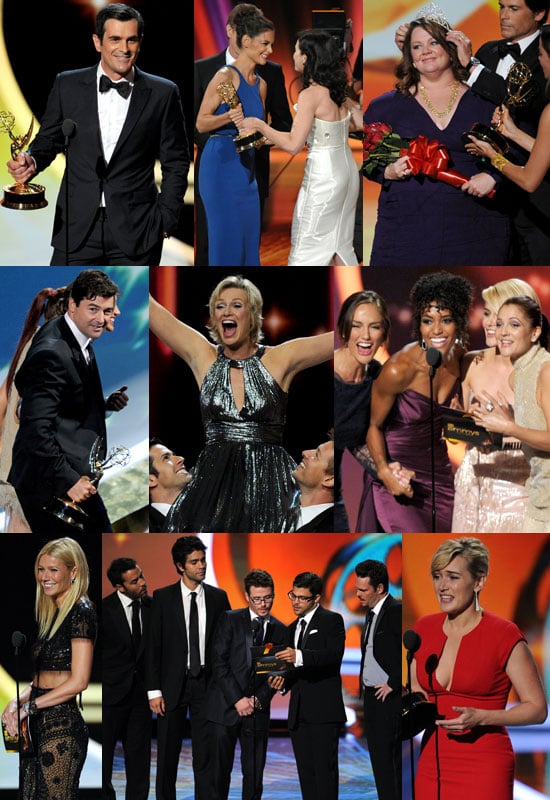 Keep reading for lots more photos and more Emmys recap!
Further nods went to The Amazing Race as best reality/variety show and The Daily Show for writing on a variety, music or comedy series. The guys of the Lonely Island teamed up with Michael Bolton, John Stamos, Ed Helms, Maya Rudolph and Akon for a racy medley of their SNL hits for a hilarious musical interlude. Ashton Kutcher joined his new castmate Jon Cryer to present supporting actress in a drama to Justified's Margo Martindale, and Peter Dinklage won similarly for Game of Thrones. Martin Scorsese, meanwhile, added to his pile of awards by picking up his first ever Emmy for directing Boardwalk Empire. Julianna Margulies tearfully was crowned best actress in a drama for The Good Wife, and Kyle Chandler was able to accept his best actor in a drama statue from Friday Night Lights co-star Minka Kelly, who took the stage with her fellow Charlie's Angel and producer Drew Barrymore. Downtown Abbey picked up multiple honours in the miniseries categories, including best miniseries or movie, though Mildred Pierce's Guy Pearce won best actor in a miniseries and Kate Winslet added to her trophy collection with best actress. At the microphone, Kate exclaimed, "Oh look — I really did win it!" Mad Men was named best drama series again, and Gwyneth Paltrow made do without the teleprompter to present best comedy series to Modern Family.