Red Riding Hood Movie Review Directed by Catherine Hardwic, Starring Amanda Seyfried, Shiloh Fernandez and Max Irons
Red Riding Hood: Eat It Up
Why is supernatural romance all the rage these days? When you see a movie like Red Riding Hood, a mature take on the classic fairy tale, you understand why. Director Catherine Hardwicke re-imagines the story, jumping off the basic points (young girl in a red cape, bloodthirsty wolf, grandmother in peril) and manipulates it into a sexy mystery that's equally appealing for both the beautiful cast and whodunit plot. Amanda Seyfried stars as the title character, Valerie, with a juicy dilemma: she's in love with poor woodcutter Peter (Shiloh Fernandez) but her hand has been promised to well-off tinsmith Henry (Max Irons).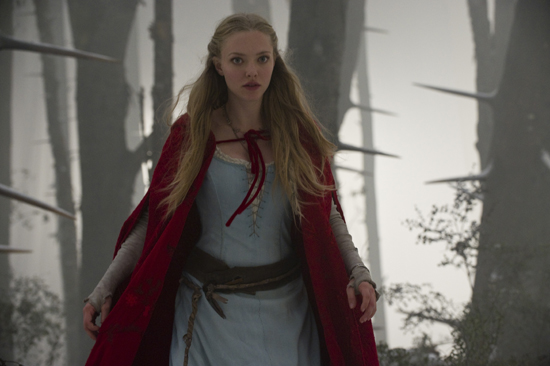 Romantic entanglements prove to be the least of Valerie's worries, though. A big bad wolf has tormented her village for ages, but when it claims a young victim, the townspeople panic. A famous priest (the incomparable Gary Oldman) visits to help them, bringing a new piece of information — the villagers are actually being hunted by a werewolf. The witch hunt that follows is distressing for everyone, but it's worse for Valerie as she wonders if her smokin' hot lover Peter could be the wolf everyone fears. Hardwicke manages to draw out the satisfying puzzle while seducing the audience, making Red Riding Hood a deliciously guilty pleasure.
Find out why I enjoyed the movie when you read more.
Red Riding Hood is all about looks; the cast members are striking, especially an ethereal Seyfried, who finds balance in the role of an innocent girl who may have some evil lurking within her. Although, it's hard to muster up sympathy for her character's romantic drama when you see the men she's caught between. Dark-haired, dark-eyed Fernandez perfectly fills the role of bad boy with his effortless smoulder, while Irons is the fair-haired good guy (who may be too good to be true). As she did with Robert Pattinson in Twilight, Hardwicke proves she has a knack for picking exceptionally promising unknown actors.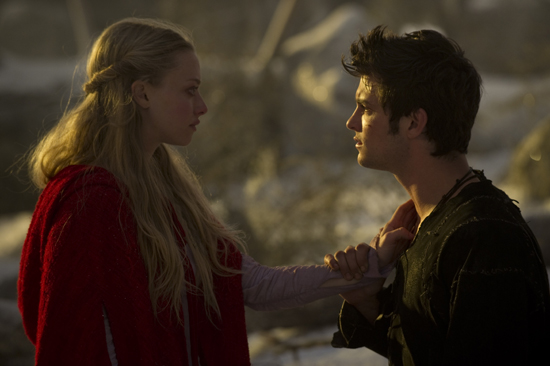 Likewise, the gorgeous scenery — all snowy trees, cosy cottages and threatening woods — combined with the costumes make for a sumptuous setting. However, some of the budget might have been better spent on CGI. The special effects used to create the big bad wolf are just plain bad.
The other negative to Red Riding Hood (I don't call it a guilty pleasure for nothing), is the dialogue, bits of which are so unsubtle that you won't be able to hold in your groans. But that's not really surprising for a movie like this, so if there's a part of you that can appreciate some silly but sexy cheesiness, then by all means, indulge.