Reece Mastin Interview on Beautiful Nightmare Album, Rhiannon Fish and Upcoming Tour
Reece Mastin Talks Beautiful Nightmare, Rhiannon Fish and His Upcoming Tour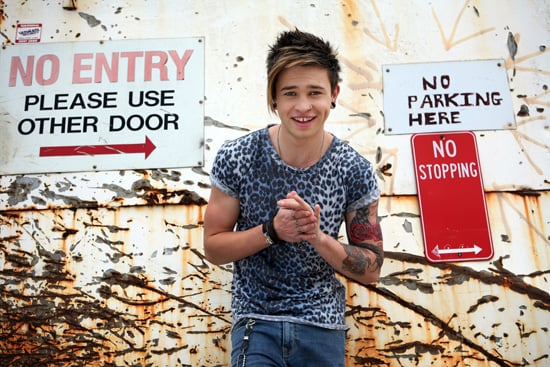 Reece Mastin's life changed last year when he was crowned the winner of The X Factor, but the 17-year-old from Adelaide has been working non-stop to ensure he's "not just a kid who won a TV show." His sophomore album, Beautiful Nightmare, was released on Friday, but it's his first real album in the sense that he's written the songs and it's the public's first chance to hear what he's really capable of. He also announced that he'll be embarking on a massive Beautiful Nightmare tour around Australia and New Zealand, with support from Justice Crew and The Janoskians. On a personal level, Reece has been happily dating Home and Away stunner Rhiannon Fish for a few months. I caught up with Reece last week to get the scoop on his new record, what the fan reaction has been like towards his and Rhiannon's relationship, what we can expect from his shows and what he's planning for his next tattoo.
It's been almost a year since you won The X Factor. What are your top three highlights from the past 12 months?
Obviously all of my singles that I've been able to release. You've been able to tell through each single how I've grown. That's a big thing for me. Obviously the tour — Australia and New Zealand was crazy, and we sold out. And I think the third one will be the release of my first album, which means a lot because I got to write this one — every track, I'm on. I think they're the main three.
What were the easiest and hardest things about putting Beautiful Nightmare together?
The easiest thing is that it's what I've grown up doing, in a way. My family's not musical at all but I've kind of grown up with music, and I taught myself how to play and sing. So in a way it's something that came naturally and I have so much fun doing it. And I think the hard stuff is probably cutting — we had about 30 or 40 tracks that we had to break down to 15, and it's just agonising going, "I want that song! But I need to get rid of one." That was one of the hard parts, getting rid of songs that you've spent so much time on.
More from Reece when you keep reading.
How much pressure do you feel with this album since it's the first time the public gets to hear you properly?
I'm more excited than nervous — hopefully this shows people who haven't really listened to my music that I'm an artist, and I'm not just a kid who won a TV show. I think people are slowly starting to realise that. It's what happened with Guy [Sebastian] at the start. After a few singles people started to go, "Ah OK, he's a musician." So hopefully after this album people will pick it up and start listening.
What's the story or concept behind the cover art?
We went for an old school movie poster, with the 'Beautiful Nightmare' dripping and that '80s, old movie, scary thing. Beautiful Nightmare is such a play-on-words title, in the sense that it shapes the album because it's got so much stuff going on, you can't really call it one thing.
What happens to the songs that don't make the album?
They might be on my [next] album or I might give them away to other people. They'll be out there at some point. At the end of my career I might just start releasing stuff. I have so many songs on my laptop that I'm still holding onto.
How did you choose Rhiannon for the "Shout It Out" clip and how did the chemistry continue off-screen?
It actually wasn't my choice — I'd never seen Home and Away. My creative director was like, "We're going to get Rhiannon Fish to do the film clip." They sent me through a couple of pictures and I said, "I have no problem with that." We didn't hit it off at the start because she thought I was a bit of a d*ck. It was only because there were people running around going, "Reece needs this, Reece needs that," just because it was so hectic. And she was like, "He's a diva." Then we got into the shoot and the first stuff we shot was the stuff in the car, when I have to be trying to be sexy. And then yeah, my creative director said the chemistry just kind of popped and we just kept staying in touch. I don't think we've had more than a week apart since the film clip, so yeah. It's been good. It feels like it's been a while but it's only been two or three months. It feels like it's been forever. It feels like the stuff we've fit into our relationship over three months is what people have fit in over years. Hopefully it keeps going.
At the time you guys got together, there were reports that you were the reason she and Lincoln Lewis broke up.
That had nothing to do with me. I was actually sort of in a relationship at that point as well — I was having troubles with my girlfriend, she was having troubles with Lincoln. We split, they split, then we started getting into things. We were respectful.
Has the fan reaction been mostly positive or negative? I know you have some pretty hardcore fans.
The good thing about it that me and Rhiannon have both picked is that we know who our true fans are now. And we know the fans who are always going to stick around. For me, I know the fans who are going to come to the show, the fans who are going to buy the album, go and watch the videos . . . For me it's really good because it shows the people who realise I'm happy and they're happy for me — they're the true fans. I think it was a good thing.
And there are the ones who still dream of marrying you one day.
Yeah. Not that they're not good fans, but those ones who give Rhiannon sh*t and bag on the relationship, it's like, "Aren't you supposed to be happy for me if you're a fan?" So I can pick them out. I mean the majority of my fans are awesome.
Have you been watching The X Factor this year and if so, who's your pick to win?
I haven't watched that much of it because I've been here, there and about, and I haven't got to sit down in front of the TV. But Trent Bell from The Collective is one of my good friends. I know he's been trying for a while so I've love to see him get his dream. But I couldn't really pick one. There's a lot of good stuff that's gonna come out of the show.
What can we expect from your Beautiful Nightmare tour?
It's going to be good. Anyone who went last year knows it's a crazy tour. I can't wait to go out there again. The fans are nuts — they are actually crazy. This year it's going to be bigger and better. We're kind of treating it like a movie — that's why we went with the old school movie look on the album. And we're going to have a horror film running in the background that I've shot. There's going to be so much energy. We've got a new band. I can't wait to get back out there.
Has anyone given you any advice about doing a big tour like this?
I have people around me that have been doing it for years. A lot of my band members have toured with the Barnes' and all these crazy artists. Having them around helps a lot, for sure, but it's also a learning curve. I've gotta do it to learn how to do it. [Looking after my voice] is one of the big ones. I'm singing six nights a week. The thing is, everybody worries about the voice, but once you get on stage you don't care. You're out there with thousands of kids, so I can't wait.
Who is on your dream list of people to work with in the future?
Steve Tyler for sure! I love that man. But anybody from that era where rock was just huge, like Slash or Axl Rose, anybody like that who'd be willing to sit in a room with me for a bit would be awesome.
Now for some 'Finish my sentence' questions:
The first thing I do when I wake up is . . . Go back to sleep.
My celebrity crush is . . . Cher Lloyd. I love Cher Lloyd. [When she comes to Australia] I'll have a bit of a fangirl moment. And my girlfriend knows this as well. She's got this swagger and she's so cool.
If I had to eat one thing for the rest of my life, it would be . . . Fried chicken and steamed broccoli. I love it, can't get enough.
My next tattoo will be . . . I'm getting a pocket watch. This is the plan, and I'll probably get something in between, but the plan is to get a pocket watch with the exact time I was born, so the exact time my life started. I think it's cool to have that reminder of how much time I have here, and how I don't have to waste it.
If I could swap lives with anyone for a day, it would be . . . Probably Rhiannon. I want to see what she gets up to! I'm always really curious because of that thing, 'How do people look at me?' I think it'd be cool to see what she really thinks of me.
The craziest thing I've bought since my career kicked off is . . . I've bought a lot of guitars. In a year I think I've bought like seven or eight guitars, and I don't need them. But I just keep buying them! And they're not cheap. Everyone goes, "You should be getting them for free!" and then I go there and I don't get them for free. I'm like, "OK, here's like 12 grand."
If I knew the world was ending tomorrow I would make sure I . . . I think I'd just play a show. I think I'd turn to my band and say, "Look, let's just do what we do best," and we'll just play until the world ends. But I'd hope it would be a zombie apocalypse because I love zombies.
My biggest fear is . . . Spiders. I can't deal with them. I hate them so much. I'm not scared of anything else — snakes, crocodiles, sharks—but put a spider in front of me and I'll . . . Well it's gotta be a decent-sized spider! If a huntsman was on the wall I wouldn't be in this room now. And when you've seen one and you don't know where it is, it's like, "What if it climbs on me?" I hate that feeling.
My secret or hidden talent is . . . I don't think there are appropriate ones!
The best word to describe how I feel about my life at the moment is . . . 'Amazed.' Everything that's happening now, I can sit back and say, "I can't believe I got to do that." Like I can't even believe I get the time to sit down and be interviewed by anybody. It's crazy.
Beautiful Nightmare is available to buy now.