Reece Mastin Interview on Upcoming Album, Tattoos and Benji Madden
Reece Mastin on His Upcoming Album, Working With Benji Madden and New Tattoos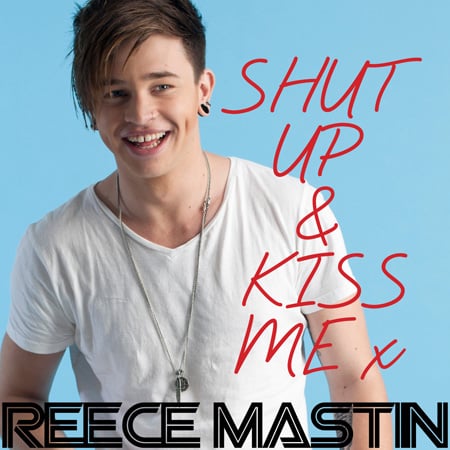 Since winning The X Factor in November last year, Reece Mastin's life has been on-the-go as he writes music for his upcoming album and travels around Australia and New Zealand to promote his new songs. His second single "Shut Up & Kiss Me" was released last Friday and has already taken the number two spot on iTunes. We caught up with Reece late last week to talk about his career and whether there's a lucky lady in his life at the moment.
What was the inspiration behind "Shut Up & Kiss Me"?
It was just something fun, just the typical 17-year-old boy's fantasy pretty much.
How's the rest of your second album coming along? Do you have input with a lot of the songs?
Yeah, I've written 100 percent so far. I'm on every track, which is good.
I read you've been working with Joel and Benji Madden. Is that true?
Yeah, with Benji. I was writing with Benji the other week. It was amazing — he's an awesome dude. We're possibly going to release the second single with him on it.
More from Reece when you keep reading.
What kinds of things do you like to write about?
Obviously you've got the typical love things, but there's some weird stuff on there too. There's a broad spectrum of stuff going on.
How far off until you release the album?
It should drop in about September, so not too far away.
With you everything has happened so quickly. How have you dealt with that?
Pretty good. I've got great people who are helping me, so I'm going good at the moment.
Do you keep in touch with the other X Factor contestants?
As much as I can, but there's obviously limits to how much I can see them. I've been catching up as much as I can.
How about the judges, like Guy Sebastian?
Not really, especially since he's had his kid. We're gonna pop around there soon.
You've had quite a few physical changes — more piercings, more tattoos. How many tattoos do you have now and what do they symbolise?
I've got four now. A lot of them are music-based at the moment.
How has your success affected your family? You're still young, so I know you've always got your mum or sister with you . . .
Yeah, they're always with me, which is cool. Livvy, my big sister, is the one who follows me around most of the time. Mum and Dad kind of stay back in Adelaide, which is sometimes better. [Laughs]
When I spoke to you after you won The X Factor, you said you were going to get a tutor for Year 12. Is that what you're doing this year?
Yeah, I was going to, but then we looked at it and I was doing music for everything anyway. I'm kind of got that job already.
Do you have a girlfriend at the moment?
I don't. I'm single and lonely.
Is it harder or easier to meet someone these days?
Probably harder because I'm working a lot. There are more opportunities [to meet people] but it's obviously harder.
What are your plans for going international?
We're gonna push for it, of course, but we'll just have to see what happens. I'm gonna focus on Australia and Zealand tours at the start and we'll branch out a bit later.