Revenge First Episode Review and Season 1 Preview
TV Preview: Revenge
Channel Seven has been playing promos for Revenge for what seems like months now, and it's finally premiering tonight! Emily VanCamp (probably best known for her role on Brothers & Sisters) headlines the drama about a woman with a dark past who heads to the Hamptons to exact revenge on the people who destroyed her life and her family when she was just a kid.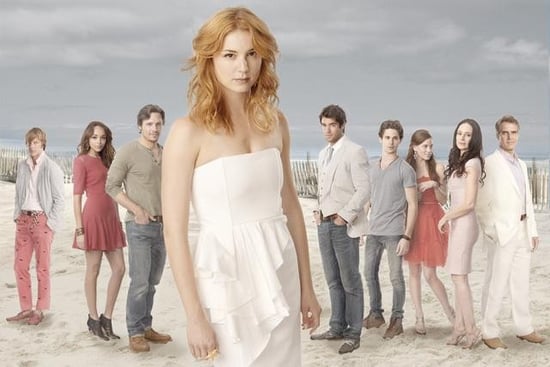 What it's about: The pilot opens on the lavish engagement party of Emily Throne (VanCamp) and Daniel Grayson (Josh Bowman), who comes from a wealthy and powerful family. When Daniel is found shot dead on the beach nearby, we rewind five months earlier, to Emily's move to the Hamptons. As it turns out, Emily actually grew up in the Hamptons as Amanda, and her life was destroyed when the Graysons framed her father for a crime. Now that she's back in town, she's taken on a new identity and is set on destroying the Graysons to avenge her father.
Where it works: The plot moves fast and is chock-full of delicious scandal. The story about Emily's plan to take down all the people that hurt her family is equally intriguing as the unfolding details of her past. The pilot also introduces us to just enough characters to round out the cast without shoving too much down our throats.
Where it doesn't: Emily seems to have a very specific goal, which makes it hard to imagine how long this show could last beyond a couple of seasons. Also, while VanCamp looks gorgeous, her character would be more believable if she exuded a little more charisma.
You might like this show if: You love the dark soapiness of Desperate Housewives.
When it's on: Monday night at 8:30 p.m. on Channel Seven.
To see more photos and to watch a preview of Revenge, just keep reading.