Review of The A-Team Starring Bradley Cooper, Liam Neeson, and Jessica Biel
The A-Team: A Is For Action!
Reintroducing The A-Team: Hannibal (Liam Neeson), Face (Bradley Cooper), B.A. Baracus (Quentin "Rampage" Jackson) and Murdoch (Sharlto Copley). You may remember the characters from the popular '80s TV series (if you can remember that far back), but this time around they're packing even more explosives as they run from danger, escape from prison and, yep, even fly an army tank. Seriously.
Over-the-top this film most certainly is, but you can forgive it for its showy nature because it's a whole lot of fun. To hear what I mean, read on.
Keep reading...
Hannibal, Face, B.A. and Murdoch start the film off as mostly strangers; they're just four Army Rangers in the Mexican desert after some run-ins with shady characters. But once they help each other escape, they become what we know as the A-Team—a group of United States Army Special Forces. Hannibal is the brains, always hatching a genius plan that involves rewiring something like a regular MacGyver; B.A. is the bad-ass who is actually kind of a teddy bear; Face is the womanising, good looks of the operation (note: yes, Bradley Cooper's abs appear in 50 percent of this movie); and finally, Murdoch is the totally bonkers nut-job whose antics provide the movie with its laughs.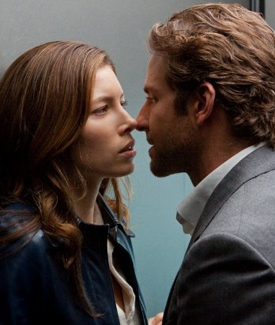 Flash-forward several years from their first meeting (not to mention some 80 odd missions later) and the boys are as tight as brothers, sitting around barbequing in the military camp. When a covert assignment comes in from a C.I.A. agent (Patrick Wilson) to recover printing plates taken by Arabs with the intentions of forging billions of American dollars, the group can't resist taking the tricky assignment, despite orders from the Defense Department. But wait, I smell a set-up! What follows is a sequence of misfortune for the boys as they're stripped of their rank, thrown in jail and quickly try to reclaim their honour—and you know, those plates.
The film passes at a nice pace, one completely absurd action scene after the next. It's like watching a high-wire juggling act on fire. Jessica Biel is on the outside of the madness, playing the hard-nosed Defense Department Captain and Face's former ladylove. But the movie clearly belongs to the boys. In fact, the four guys have a surprising deal of chemistry and it's their relationship that tries to ground the film with a teensy bit of depth—although deep is obviously not what we're going for here. This is a blockbuster movie if I ever saw one; it's loud with guns ablazin' and with plenty of clichéd lines that somehow still make us smile. Something tells me that if all goes well at the box office, this won't be the last we'll see of the A-Team. Cue the theme music.
3.5 stars