Review of Angelina Jolie in Salt
Salt Review: Take It With a Big Grain
I was a bit confused when the news broke that Angelina Jolie would replace Tom Cruise as the titular character in spy thriller Salt, but oh what a difference an actor swap can make. We'll never know what the film would have been like with Cruise (probably a watered-down Mission Impossible), but I can tell you this: Jolie is what makes this otherwise run-of-the-mill action film entertaining.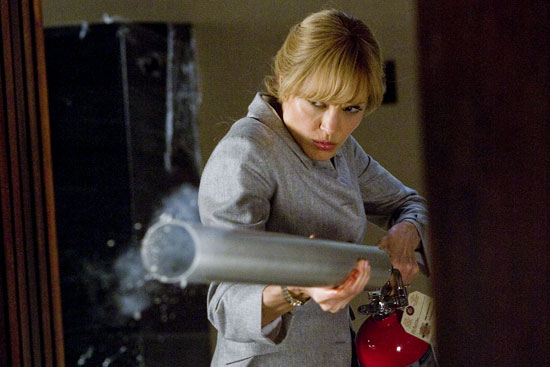 Jolie is Evelyn Salt, a CIA agent living a seemingly provincial life with the arachnologist husband she loves and a dog curled up on the floor. What starts out as a typical work day becomes a heart-pumping run from her colleagues (Liev Schreiber and Chiwetel Ejiofor), when Evelyn is accused of being an undercover Russian spy. Thus begins a 100-minute game of cat and mouse that keeps you wondering where Evelyn's loyalties truly lie. To see what works and what doesn't, just keep reading.
. Jolie has never been one to shy away from a kick-arse character, which is exactly who Evelyn is. Sure, she looks like she could stand to spend a little more time bulking up, but it's impossible to take your eyes off Jolie as she shimmies down elevator shafts and scales buildings with the greatest of ease. We've seen these action sequences a million times before, but the gender reversal here delivers a fresh take. (Somehow, I find it hard to believe that using a maxi pad to treat a gunshot wound was part of the original Tom Cruise script.)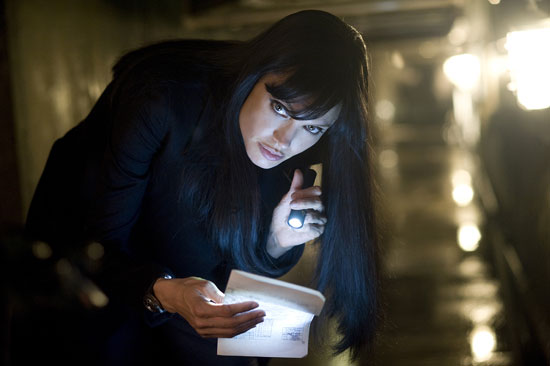 While Jolie's cat-like moves and sex appeal keep the movie entertaining, it's not enough to make Salt a classic. The plot lines and twists are typical and often predictable—and, as usual, you pretty much have to throw all reasoning out the window to really give in to the story. Evelyn is fun to watch, but Salt is all about the aesthetics, which means we don't get to know her well enough to connect with her. The lack of character development is why the film ultimately falls short of having the kind of franchise potential we see in Mission Impossible or the Jason Bourne series. If you're an action fan who's looking for a fun escape, then Salt is the perfect fare—but it won't be the film that everyone is talking about for years to come (or even on Monday morning).