Review of George Clooney in Jason Reitman's Up in the Air
Up in the Air: A First Class Flight
We're officially in the midst of awards season buzz and one of this year's most talked about films is Up in the Air. All the hype has raised plenty of questions. Can Jason Reitman improve on the success of Juno? Does Clooney deserve all the hype surrounding his performance? How many parts comedy and how many parts drama is a "dramedy" anyway? I walked out the theater with my questions answered, a lot of food for thought and that rare but wonderful mix of satisfaction and introspection that you can only get from a great film.
Jason Reitman wrote the screen adaption of the Walter Kirn novel with George Clooney starring as Ryan Bingham. To know Ryan is to fly with him; at least that's what he tells those he surrounds himself with—his co-workers, fellow fliers and temporary buddies at airport bars. To Ryan, acquaintances are as disposable as hotel shampoo bottles and in-flight alcohol nips. (Brad Pitt's Tyler Durden referred to them as "single-serving friends"). As a professional corporate downsizer, Ryan even makes a living by helping bosses fire employees. He moonlights as a motivational speaker, advising his peers to cut as much emotional baggage out of their lives as possible. To see the rest of my review just keep reading.
Keep reading . . .
. Ryan loves his minimalist lifestyle and the ease in which everything fits perfectly into his carry-on suitcase. His airport navigation technique looks like a carefully choreographed dance and he even fires folks with finesse. Naturally, he's less than enthused when his perfect life balance is disrupted when his boss (a deliciously sleazy Jason Bateman) asks Ryan to take a younger colleague on the road with him. To make matters worse, Ryan's jet-setting days are threatened by a new technology that would enable layoffs to be done via satellite—right from his desk in the bland Midwestern town of Omaha, Nebraska. Ryan's saving grace is wrapped up with the distraction of a woman named Alex: a self-proclaimed female version of Ryan who's equally turned on by elite status and black cards. Ryan's trips from one place to another are brightened by romps in random cities and late-night text messages that slowly start to look an awful lot like a relationship—once again causing Ryan to question his neat little life. The film's timing is impeccable; we watch Ryan lay off one employee after another, and the injured parties run the gamut of personalities from angry to depressed to in denial. Reitman uses actors like Juno's J.K. Simmons and The Hangover's Zach Galifianakis in some of the bit parts, but he also showcases real Americans who've fallen victim to the economic downturn—and these are the moments that really hit home.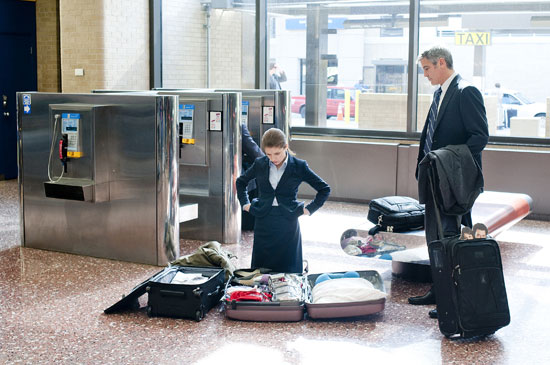 Clooney is perfection as Ryan Bingham, and what sets this performance apart from others is that he brings just the right amount of emotional depth to the role. His character has the propensity to be a complete jerk—we're talking about a guy who fires people for a living and meets his sister's fiance the night before her wedding—but as you watch Ryan contemplate the biggest epiphany of his life, you feel for him; you want him to win; you desperately want him to just embrace life instead of continuing to exist in a bubble of false reality. Reitman wrote most of the main roles for specific actors and his cast fits the movie like a glove. Anna Kendrick is superb as Natalie, the wunderkind of Bingham's office that he's forced to take under his wing. Kendrick plays the part with equal parts naivete, sincerity and false confidence. Though Natalie fancies herself as thick-skinned, inside she's just mush—and she slowly shows Ryan that he's not as hardened as he sees himself either. Reitman's screenplay is so well-balanced between tender moments and laughs, but the genius is that you never feel emotionally manipulated. His actors delicately pull emotion from the audience rather than hit you over the head. In Thank You For Smoking the jokes are a little more obvious, in Juno there are times where the plot teeters on the brink of cheesy (though in the most lovable way), but Reitman's third film proves that he's only getting better with age and experience. The film is neither predictable nor cliched, which is incredibly refreshing in a time where it seems like everything old is new again in Hollywood.