Review of Jake Gyllenhaal and Gemma Arterton in Prince of Persia: The Sands of Time
Prince of Persia: A Forgettable but Fun Adventure
Prince of Persia: The Sands of Time teeters right on the brink of movie mediocrity. It's neither amazing nor offensively bad, the action sequences are entertaining but not mind-blowing and the performances are fine but not nuanced. Using Jake Gyllenhaal's familiar face and jacked up abs as a promotional tool helps to tip the scales in the right direction, but ultimately it's not enough to keep the film afloat against this year's heaviest hitters.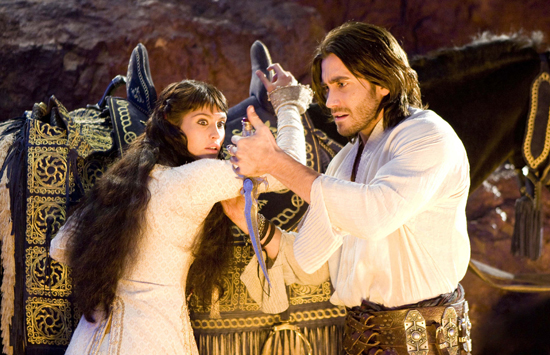 Gyllenhaal plays our scrappy titular prince, Dastan. Born a street urchin and taken under the King's wing as a boy, Dastan's lack of royal blood doesn't make him any less a part of the family, which consists of his two brothers and uncle (an always-excellent Ben Kingsley). That is, until he's framed for his father's murder and forced to flee the city. With only a mysterious dagger that can turn back time and a hot-headed princess (Gemma Arterton) in tow, Dastan sets out to prove his innocence and set things right—finding romance, hijinks and some ostriches along the way. So is Jakey G worth your money or not? Find out when you read on.
Keep reading...
For a movie that's based on a video game, I was impressed with how well the plot holds up throughout the two-hour film. There are plenty of weapons and choreographed fight sequences that had me reminiscing about the days I spent mastering Nintendo moves, but I certainly didn't feel like I was simply watching someone else play a video game. The story is predictable but still engaging and is packed with enough characters (Alfred Molina is particularly fun as a wisecracking thief Dastan encounters) and twists to balance out the action and often (literally) blinding special effects.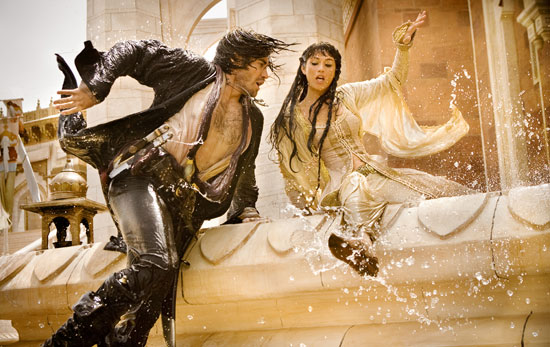 There's no questioning that the movie is entertaining but it's unfortunately lacking in script and character development. The dialogue is often painfully cheesy, chock-full of badly delivered lines like "It is your destiny, not mine." We scratch the surface of Dastan and Tamina's chemistry, but not enough to really cheer for their romance or care about what happens to them. Yes, it's a cookie cutter superficial action blockbuster, but Prince of Persia could have gone so much further had it spent just a little more time getting the audience acquainted with the major players. In the end, Prince of Persia is the kind of movie that's perfect for one-time use. If you end up seeing it, you just might be pleasantly surprised—ut you're not missing out anything if you let it pass you by.