Review of Matt Damon and Morgan Freeman in Clint Eastwood's Invictus
Invictus: Inspirational but Not Groundbreaking
Clint Eastwood's Invictus may appeal to some as a historical story about Nelson Mandela; others will see it as another sports movie about a rugby team. Whatever the reason for heading to the theater, the film has the unique ability to take the audience on a journey that will leave you cheering when it's all over—even if the story seems familiar.

Invictus takes us to South Africa in 1994, the year that Nelson Mandela took the presidency after spending 27 years in prison. Faced with the mountainous task of uniting a nation post-apartheid, Mandela turns to rugby captain Francois Pinnear (Matt Damon) to give the divided masses a cause they can all rally behind. That's just the tip of the iceberg though, so
. The aftermath of apartheid is visible at every turn, but Mandela is determined to unite his people—even when his family, followers, and advisers disagree with his methods. Separated from his wife and family, Mandela has only his presidency to think about and works tirelessly in spite of exhaustion and fatigue (the man was in his 70s, after all). Meanwhile, Pinnear is having leadership obstacles of his own: his team, the Springboks, aren't performing on the field and are hated by most of their home country. Seen as a symbol of apartheid, the black citizens choose to throw their support toward any team that isn'ttheir own. With the Rugby World Cup looming on the horizon, Mandela invites Pinnear to tea, taking the first step towards bringing his country closer together. Throughout the film, we watch as the line between black and white slowly begins to blur on many levels; from Mandela's personal security team to Pinnear's family to, finally, a stadium filled with roaring fans.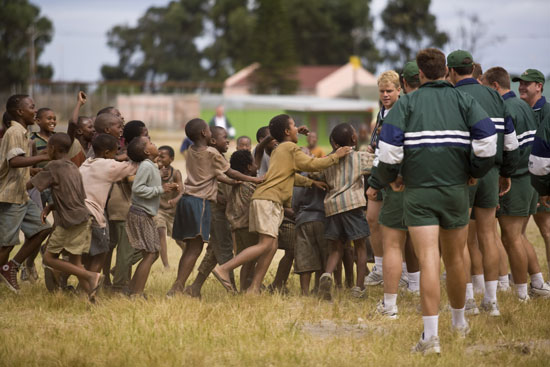 Freeman and Damon are both top-notch in their roles, taking on accents and slipping into their parts effortlessly. Playing Mandela requires a bit more and Freeman delivers a quiet yet engaging performance as the pensive president with a sly sense of humour. Though the film seems perfect on paper, Eastwood's storytelling lacks the emotional depth I've grown to expect and appreciate from his films. We just barely scratch the surface of Mandela's fascinating life and what makes him tick, and I would have liked to see his character explored more deeply. The same can be said for the level of segregation that exists at the beginning of the film. Yes, there are scenes that portray how adamantly opposed the black people are to supporting the Springboks, but the big Hollywood ending almost feels too easy and all tied up with a big red bow. This is a true story, one that's rich in history and inspiration, so why does it feel like something we've seen a hundred times before? It certainly packs the right issues and elements to make you think and feel, but it just falls short of fully engaging the audience in the story. For a director of Eastwood's caliber, that's a disappointment. At over 130 minutes the film is certainly not short, but somehow it feels like key moments are left out to usher us into the Sprinbok's winner's circle. The good news is that even if you drift off in the middle, the big payoff at the end still tastes just as sweet.