Review of Meryl Streep and Alec Baldwin in It's Complicated
It's Complicated: An Affair to Remember
I haven't seen Something's Gotta Give, but I can tell you that It's Complicated is probably very similar. Same writer/director (Nancy Meyers), another cheeky title, another romantic comedy for a slightly older generation than what we're used to seeing. So why see It's Complicated? For the amazing leading man and leading lady.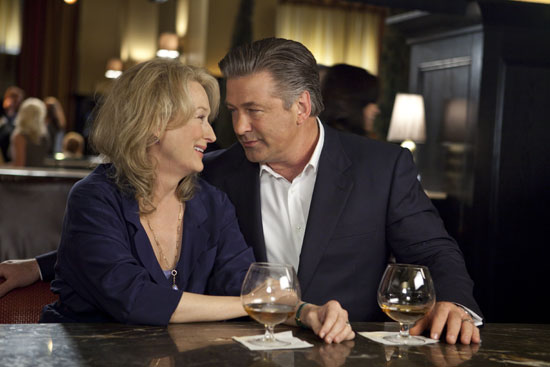 Meryl Streep and Alec Baldwin star as Jane and Jake Adams, a couple who re-ignite their spark 10 years after divorcing. Both former spouses have moved on, but in very different ways: Jane has made a life focusing on her successful bakery and being a doting mother to her three kids, while Jake has married the PYT (Lake Bell) that he cheated on Jane with. That's just the tip of the iceberg though, so
. Things get, well, complicated, when fiercely independent Jane starts feeling a little lonely. With the help of a few drinks, she and Jack end up in the sack during their son's college graduation weekend. As Jane contemplates the morality of her situation and whether or not she's ready for a reunion, Jack decides he's too old for his new life and quests to win back her heart.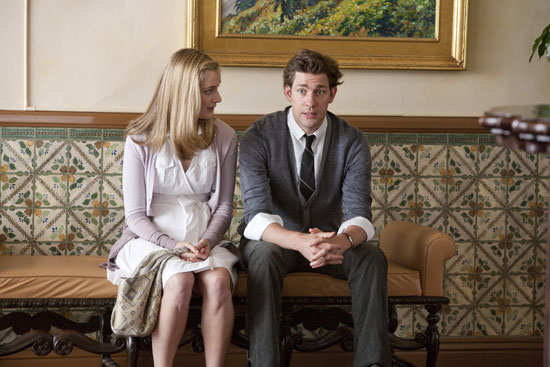 With any other actors, It's Complicated could be passed off as a forgettable romantic comedy that doesn't bring much to the table. And don't get me wrong — there's nothing particularly nuanced about the script — but Baldwin and Streep are just so charming and watchable that I found the film to be one the funnier movies I've seen in awhile. Baldwin basically plays a slightly more down-to-earth version of Jack Donaghy, and his presence and comedic timing alone kept me smiling. Streep plays off of him perfectly, equal parts luminous and alluring; their scenes together are sometimes corny, but their chemistry is magic. Steve Martin fits perfectly as the third point of their love triangle. One of the film's most pleasant surprises comes wrapped up as John Krasinski. The Office star doesn't get much face time in the promos and trailers, but after the big three leads he's easily the strongest member of the supporting cast. As the fiance of Jane and Jake's oldest daughter, Krasinski's Harley is put in a most awkward situation when he accidentally discovers his future in-laws' affair. From there on, Krasinski gets to play the clown as he nervously drinks, interjects, and struggles to keep the secret — and he scores big laughs in the process. The bottom line: if you're looking to see Oscar-worthy actors having some fun in less serious roles, It's Complicated is just the ticket.
Photos courtesy of Universal Pictures