Review and Recap of Desperate Housewives Episode "Everybody Ought to Have a Maid"
Desperate Housewives Recap: "Everybody Ought to Have a Maid"
This week's episode of Desperate Housewives is all about judgment (though it's also a little bit about monkey attacks, but more on that later). The Bolen family continues with their shady behaviour, while Julie is having some trouble adjusting to life on Wisteria Lane after her attack. Meanwhile, Gaby is accused of being a bad mum and Bree has a showdown with a motel housekeeper.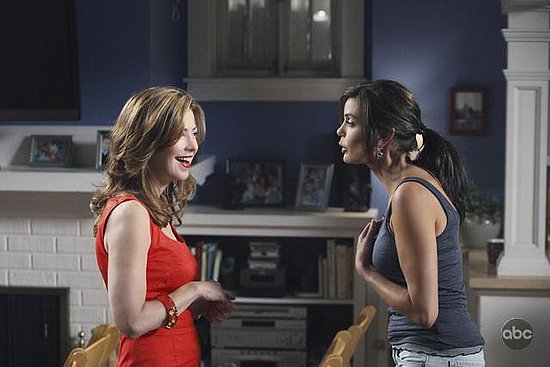 Ready to talk about it? Just keep reading...
. Gaby: Gaby gets the comic relief once again this week as she tries to prove her mothering skills to the other snippy ladies at school. In order to regain their trust, she lures their children to Juanita's birthday party by pulling out all the stops. Of course things go awry when the trained monkey starts attacking the clown while Gaby is busy having drinks with Susan. In the end Carlos comforts her, but I have to admit—Gaby isn't exactly the greatest mum in the world. That said, Carlos isn't exactly a model parent either—where was he during his daughter's birthday party?
Susan: Susan and Katherine's rivalry reaches new heights this week, when the ladies have a mini-showdown at their neighbourhood watch meeting. Susan is paranoid about Katherine coming on to Mike and it culminates when Susan accidentally shoots Katherine through a window. Susan wouldn't be Susan without her usual clumsy antics, but couldn't she just ignore Katherine? Katherine seems so desperate, but Susan is kinda sinking to her level. Not to mention that calling Katherine a "loon" isn't exactly the best method of telling your friend that she probably needs to see a professional.
Angie: Most of Angie's problems take place without her even knowing it this week, as Danny gives the family gun to Julie for protection. Danny also confronts Dominic about his affair with Julie and Dominic responds in a typically creepy manner, telling Danny to go ahead and spill to Angie. Angie keeps her distance for most of the episode, but then she plays a big factor in keeping Katherine crazy, to keep Katherine from turning in the Bolen family gun. I know Angie is a tough cookie, but somehow I feel like she may be the moral member of her family.
Lynette: Lynette's "twins" situation (both of 'em) is put on hold this week as she tries to help out her friend Mrs. McCluskey. First of all, McCluskey talking about her sex life—eeew. Lynette agrees to hire McCluskey's boyfriend Roy as the Scavo family handyman, but Roy won't stop going over Lynette's head and turning to Tom for ultimate decision-making. When Roy basically tells Lynette that she's emasculating her husband, Lynette loses it and sacks him. But how sweet is Tom explaining to Roy that he lets Lynette have control so that she can feel safe? By far my favourite moment of the episode.
Bree: I thought Bree's storyline was kinda lame this week. The maid at the motel starts judging Bree's cheating ways, so of course Bree does all she can to defend herself. In the end, the housekeeper is just trying to warn Bree that she was once in her shoes and that everything went awry. (Lesson to all: cheat on your husband and you'll end up a maid?) The maid does get one awesome one-liner: "Cheating's not a sin when you do it in pearls?" What'd you think of this week's episode? Are Katherine and her crazy antics starting to bug you? Are you more creeped out by Dominick than ever? Let's dish in the comments!
Photo copyright 2009, ABC, Inc.