Review and Recap of Desperate Housewives Episode, "The God-Why-Don't-You-Love-Me Blues"
Desperate Housewives Recap: "The God-Why-Don't-You-Love-Me Blues"
Secrets came to the surface on this week's Desperate Housewives, like Katherine's obsession with sneaking into Mike and Susan's house (cuckoo!), Julie's scandalous affair—and best of all, we learn more about the mysterious Bolen family, which has me totally intrigued.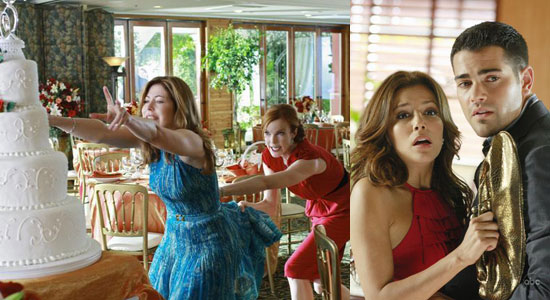 Ready to break it all down? If you don't mind spoilers, then
. Gaby—Gaby catches a break this week. It all starts when her daughters discover Ana's stash of condoms. Gaby confronts Ana and she admits to her aunt that she's in love with John. (Yeah, like we didn't see that one coming.) Gaby goes to John's restaurant to confront him about the matter and he comes on to her—right when Ana walks in. I was pretty excited about the battle that was going to go down—will she blackmail Gaby? Tell Carlos?—but after Gaby reveals her history with John to Ana, she surprisingly backs off and quits her job. I don't know if I believe that this storyline is 100% over, but looks like John doesn't have a reason to stick around Wisteria Lane. Gaby really seems like she's moved on for good.
Susan—She may have tried to attack Danny last week, but this time around, Julie gets the brunt of Susan's anger. Julie finally wakes up in the hospital (yay!), but on the downside, she comes back right as Susan learns that her daughter had an affair with a married man. In typical Susan behavior, she tries to pry for details—and even searches through Julie's journal to find out that the guy is called "D."—but Julie won't admit anything. We learn who the unknown "D." is soon enough. For that, keep reading.
Angie—Angie means well. She sees that her son Danny is having a hard time at school with making friends, so she bribes Porter to throw him a shindig, so Danny can feel included. At the party, Danny sees his dad flirting with some of his classmates (perv alert!) and he confronts him by saying, "I know." His dad's response? "You know what?" But I thought the horrific look on his father's face totally gave it away, didn't you? "D." is Danny's dad, Dominic, as we later discover when he visits Julie at the hospital. Uh-oh. I'm curious to hear what exactly took place in the Bolens's past—especially after seeing those scars on Angie's back.
Bree—This week was a showdown between Bree and Katherine. Katherine starts off the episode by telling Bree that she's in love with Mike still. Seems that Katherine has been sneaking into Mike and Susan's home to find out their sleeping habits and she's convinced that they're not having sex. Bree tells Katherine to seek help for her obsession, but when Katherine tries to destroy the bride's cake at one of their catered weddings (because it was the same one she designed for her nuptials to Mike), Bree actually sacks her. I'm expecting a major Katherine freak out next week. Did you see the menacing look she has at the end of the episode? Bree better lock her windows.
Lynette— Once again, Lynette had one of the funniest subplots this week. Even though no one at work knows about her pregnancy, the signs are starting to show with Lynette's breasts. While Tom likes the results (he calls them "The Supremes!"), Lynette is panicked about how to hide them. Fortunately for her, Carlos thinks she got a boob job, so Lynette goes along with the fib. So much so, that when Carlos asks her to wear a low-cut dress for a client dinner, Lynette concedes. But my favorite part was her talk with Tom when he says, "I need you to not be perfect, 'cause I'm not perfect." Sigh, I love those two.
What'd you think about the episode? Where do you think the Dominic and Julie storyline is headed? Do you think Jesse Metcalfe is getting the boot soon or will his character John stick around?