Review and Recap of Desperate Housewives Episode, "Never Judge a Lady by Her Lover"
Desperate Housewives Recap: "Never Judge a Lady by Her Lover"
Is it just me, or do the housewives seem even more desperate than usual this week? Susan takes some drastic measures to scare Danny away, which in turns sets Angie off with a few crazy antics of her own. Meanwhile, Bree's jealousy sends an innocent woman to the hospital and Lynette makes Tom look like a fool to cover up her pregnancy at a company dinner.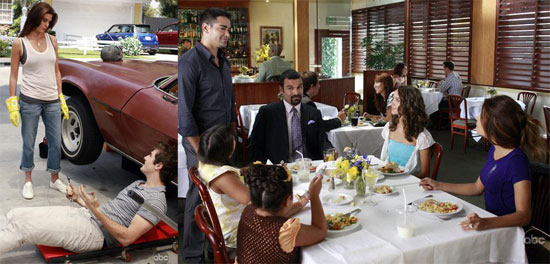 Jesse Metcalfe also makes his (triumphant?) return and Katherine is pretty much nowhere to be found. Ready to hash it all out?
. Gaby—Just when you thought it was safe to go back to Wisteria Lane, Jesse Metcalfe is back. Again. Both Gaby and Carlos are taken by surprise to see John at one of their restaurants of choice, especially when they learn that he's the owner. Naturally John is immediately making eyes at both Gaby and Ana and I think we all know where this one is heading. Gaby later convinces Carlos that she doesn't have feelings for her former gardener anymore, but then she gets all nostalgic looking at photos of him. (I love that they had time to head to a photo booth during their affair—isn't the mall a little high profile for that?) One thing that really bothers me about Gaby this week is that suddenly she's all frumpy again, when she's been pretty much flawless since she and Carlos were back to being rich.
Susan—We don't get any updates on Julie's progress this week, but it's clear that her condition is taking a serious toll on Susan. Susan wastes no time spreading the word about Danny to all her neighbors, even when Mike gently reminds her that Danny hasn't been convicted yet. This leads Susan to start her own investigation for proof—which seems like a perfect opportunity for one of Susan's klutzy, over-the-top schemes, but instead takes a very dark turn when she basically tries to kill Danny herself by squishing him under a car. I give Susan a free pass for her antics this week since in the end she reaches out to Angie and starts to make amends when Danny's alibi comes through.
Angie—Angie's mama bear side really comes to the light this week. She's pretty scary trying to scare off prank calls and even more threatening when she comes at Susan wielding a baseball bat. There are a few allusions to the Bolens' previous life (like that they change their name constantly and had to raise Danny "on the run"), but in the end Angie seems more like a protective mom with a secret than an evil person. Her husband on the other hand. . .
Bree—Despite her requests for pain au chocolat in lieu of a burrito, Bree begins to realise just how much she actually likes slummin' it with Carl. When she tells him that she's not looking for anything serious, Carl totally plays her by bringing a date to a function Bree is attending with Orson. In a matter of minutes Bree's all green-eyed about the idea of Carl taking someone else to their beloved motor lodge and eliminates the other woman—literally. Meanwhile, Orson thinks he's making major strides and that Bree was jealous of the other woman for dancing with Orson. Though Katherine isn't around this week, I still think the whole thing will be smoothed over once she and Orson get together.
Lynette—The Scavos get to be the comic relief this week, which is refreshing after all the doom and gloom that was previously surrounding Lynette's pregnancy. The reactions she gets from her kids are priceless, particularly Porter's little speech about how she and Tom were irresponsible about birth control and are "destroying their futures." (I kinda agree about the birth control thing—may I suggest something permanent, like a vasectomy?). Right on cue, Lynette's career path is tested when Carlos admits he wants to give her a promotion after passing on another co-worker who is pregnant. Tom helps cover for her, but we all know she won't be able to hide twins for very long. So what did you think of the episode? Are you happy to see Jesse Metcalfe again? How long until Gaby and Ana are vying for his attention?