Review and Recap of Grey's Anatomy Episode "Give Peace a Chance"
Grey's Anatomy Rundown, "Give Peace a Chance"
Derek Shepherd has been on the periphery of Seattle Grace for the first few episodes of this season of Grey's Anatomy, but this week he's back—and in a big way. As Derek tries yet again to work his magic on a seemingly inoperable tumour, he also provokes a long-coming showdown with the Chief. As for the other doctors, Cristina's still frustrated about her lack of surgeries and Alex still can't get through to Izzie.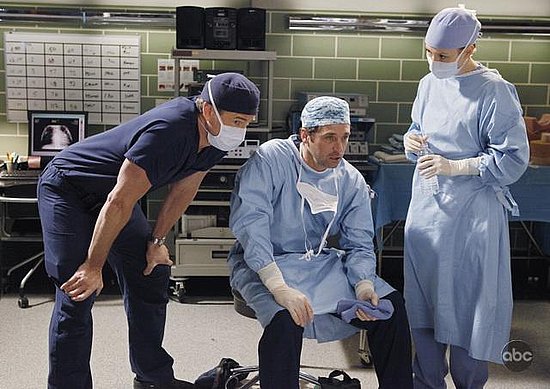 Ready to get into this week's recap? After you...
Keep reading
Derek is faced with a conundrum when he finds out that a fellow doctor at Seattle Grace not only wants Derek to remove his inoperable tumour, but that he came to the hospital just for Derek. I kind of thought Derek would have a little more trouble finding his confidence (remember when he went on that bender to the woods last year?), but he wastes no time scheduling the surgery behind the Chief's back.
Speaking of confidence, Cristina's true colours are beginning to show through her cocky exterior. She pretty much declares herself the winner of Derek's challenge, only to fail miserably in front of her colleagues. There's still tension between her and Owen (can't wait to see what happens when 24's Kim Raver is added to this mix. By the end of the episode, Owen is making things right again and helping Cristina with her surgical skills.
Lexie's emotional relapse from last week seems to be behind her now and she quickly steps up to the plate when she's selected for Derek's surgery. At first she's still a shrinking violet when Avery makes fun of her nappy (how hilarious/ridiculous were the shots of her waddling down the hall), but she has the last laugh when Avery's hand cramps up due to dehydration. I also loved that she came into her own, barking orders at Shepherd and helping him through.
Derek and the Chief aren't the only rivals at the hospital: Alex and newbie Reid are giving them a run for their money. The sexual tension between them is becoming abundantly clear (at least to me), as Reid gives Alex lectures when he avoids seeing Izzie. In the end, Izzie skips her cancer treatment and Alex is in tears yet again this season. Reid is the only one there to comfort him—seriously, how long before they end up in the sack?
Derek has one lapse in confidence when operating on Isaac, but after one long night with Meredith he solves the problem (of course). Am I the only one who wasn't on the edge of my seat about his "eeny meeny miney mo" game at the end? It just seems so obvious that Isaac is going to make it.
On the other hand, I was a bit shocked when the Chief fires Derek at the end, even though Derek barely bats an eyelash and passes on Isaac's words of wisdom to "sleep on it" and see what happens tomorrow. I'm also kinda loving Mere and Der's married life—so much nicer without all of their drama.
What'd you think of this week's episode? Is Derek really fired? Do you wish there was a little more Bailey ('cause I do)?