Review and Recap of House Episode "Brave Heart"
House Rundown, "Brave Heart"
Wasn't this week's House incredibly satisfying? There was no sign of Thirteen—bring her back!—but House helped resurrect a man from the dead, heard voices in his head (crazy), and made goo-goo eyes at Cuddy. It doesn't get much better than that. I especially enjoyed the sweet friendship moments that played out between the hard-hearted doc and Wilson.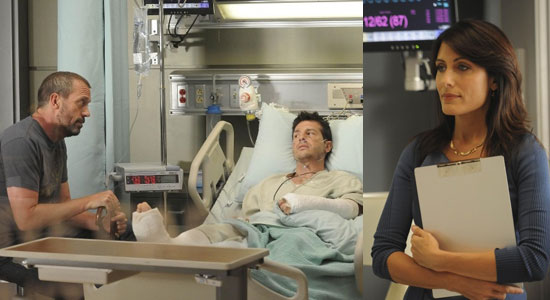 I'm ready to dissect it all—how about you? Let's start with the recap, shall we?
Keep reading
I loved seeing Wilson and House interact as roommates. (How about that scene where Wilson catches House fishing underneath the blankets, and he uses the excuse, "I'm picking lint out of my belly button"? Hilarious.) They're sort of like a warped version of Oscar and Felix from The Odd Couple. How long do you think until House moves out?
This week's case of the cop with the heart phobia really kept my interest, but I think my jaw literally dropped when they cut him open on the autopsy table and he opened his eyes. It was freaky in a fun, scary movie way. Did you see it coming?
Chase continued to harbor regret for killing off Dibala two weeks back, but this time it manifested itself in constant flashbacks, followed by a trip to a priest. I'm worried that he's going to sink into a major depression/insanity—and obviously destroy his marriage in the meantime. Do you think Chase will heed the priest's advice and turn himself in for the dictator's murder? I think he might—the guy's about to crack.
You probably feel mixed on this, but I'm sort of excited about the Cuddy-House romance that's a brewin'. The hints were everywhere this week—I especially liked his line about getting "hot for teacher!" Looks like those sexy hallucinations from last season may turn into something real after all. What do you make of the setup?
House started to wonder if he was going crazy (again), because he heard voices coming from Wilson's house. While I don't exactly wish insanity upon House, I thought the is-he-or-isn't-he question was fun to watch play out—except for the part where he has to admit to Cuddy that he may not be ready to be a doctor again. He looked so sad and defeated. This begs the question, do you think House really is 100 percent healed?
Chase has to stop being such a jerk to Cameron. No wonder she's leaving him soon.
Foreman really stood up to House in the episode by telling him that he couldn't perform the autopsy "without a medical license." Ouch. Still, I think it may actually earn House's respect in the long run, and I'm curious to see if their dynamic starts changing.
The final scene where House listens for Wilson's voice and then calls out to him from bed was so great. We really got to see House's soft side. Mainly, I just hope that the writers introduce someone for Wilson, don't you? He's so distraught over his girlfriend's death, and I want to see him happy.
Think you can shed light on any of these thoughts? What do you make of the whole Cuddy-House romance? Let me know in the comments!